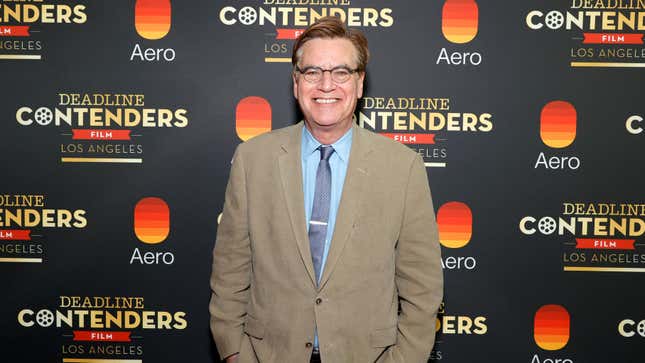 According to Aaron Sorkin's doctors, Aaron Sorkin should be dead right now. Thankfully, he keeps proving them wrong. In a new profile in the New York Times, the Oscar- and Emmy-winner revealed that he had a stroke last fall as he was prepping his latest Broadway gamble, a revival of Camelot. Of course, the always walking and talking, working and smoking Sorkin continued as usual. Then, two months before rehearsal began, he called his doctor, who told him to stop futzing with Camelot and get to a doctor. His blood pressure was so high doctors told him, "You're supposed to be dead."
Joshua Malina on "Leopoldstadt," and being Aaron Sorkin's nepo baby
Sorkin's symptoms began shortly before but lingered long afterward. At first, the writer noted that he was bumping into corners and walls and spilling drinks. Symptoms persisted for the next month. He couldn't fly, which was especially difficult for the bicoastal Sorkin, and he had trouble signing his name and typing, an occupational nightmare for the prolific writer. The Times notes that while he still can't taste food, the other issues are "now behind him."
"There was a minute when I was concerned that I was never going to be able to write again," he said, "and I was concerned in the short-term that I wasn't going to be able to continue writing Camelot."
Since the stroke, Sorkin says that he's made vast lifestyle changes, including giving up cigarettes. His two packs of Merits a day were an integral part of the writing process for Sorkin. "It was just part of it, the way a pen was part of it," he said. "I don't want to talk about it too much because I'll start to salivate." But he quit cold turkey, changed his diet, and began working out twice daily.
"It was a loud wake-up call. I thought I was one of those people who could eat whatever he wanted, smoke as much as he wanted, and it's not going to affect me. Boy, was I wrong."
Still, Sorkin insists that he "wouldn't want anyone to think I can't work" and that he's fine. The writer is undoubtedly resilient, having spent much of his life battling drug addiction. He was arrested in 2001 for drug possession of mushrooms, crack cocaine, and a metal crack pipe in his carry-on. It's starting to feel like nothing can hurt this man.