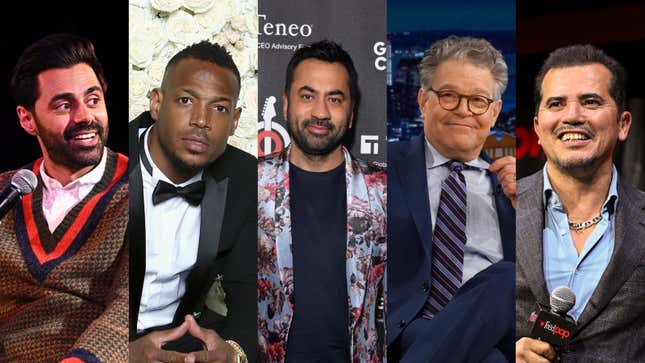 As Comedy Central's The Daily Show continues to weather its post-Trevor Noah period—with no replacement host as yet announced to fill the vacant desk, which Noah departed late last year—the network continues to roll big-name guest stars (including several series alums) through the post. Now, per Vanity Fair, the series has announced the next several guys (it's all guys, this time, after the initially announced run that handled January and most of February included Wanda Sykes, Chelsea Handler, Leslie Jones, and Sarah Silverman) who'll be holding down the fort.
Why Christian Bale just can't quit David O. Rusell
First up: Daily Show veteran Hasan Minhaj, who's spent the last several years honing his direct talk to camera skills over on Netflix's Patriot Act. Minhaj will host the week starting on February 27, and will be followed by Marlon Wayans on March 6.
Following Wayans will be Kal Penn, who audiences will know from tons of acting and comedy project, and also that weird time Kal Penn stopped acting for a while so he could be an aide in the Obama administration. (Remember that? Weird!) Penn will host on the week of March 13, before giving way to another comedian who veered into politics, late-night writer turned actual senator turned not-a-senator-anymore Al Franken. Franken, who worked for years on Saturday Night Live before becoming an author, radio host, and then elected official—and who left office in 2018 amidst allegations of sexual misconduct—has been touring as a stand-up in recent years, and so will presumably be pretty primed to take the hosting stint. Finally, John Leguizamo will finish out this latest slate of guest hosts, taking the desk on March 27.
Comedy Central's long-term plans for The Daily Show remain unclear; it's not obvious yet how many of these big names are actively auditioning for the job, and how many are just having a little fun; here's hoping the network doesn't totally Jeopardy! this thing up.