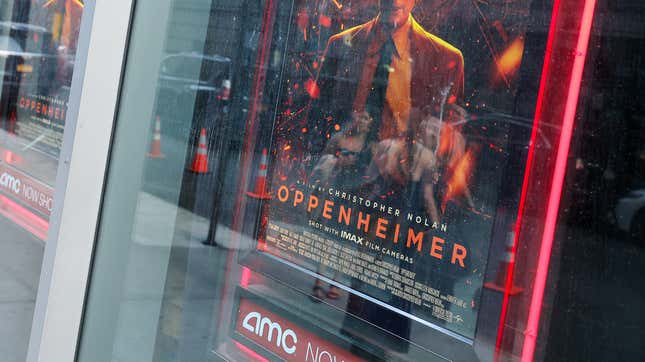 Step aside, Tom Cruise: there are two new Saviors Of The Theatrical Experience in town. And we bet you can guess who they are. (Hint: if they put together the superhero outfits they so clearly deserve, they would probable include a hot pink cowboy hat and/or little tan fedora.)
You can now buy a Weird Barbie — but isn't that missing the point?
Barbenheimer (and Barbie specifically) has been smashing records left and right since the films were first released two Fridays ago—even some records you probably didn't know were records in the first place. This new one, though, is easily one of the coolest yet.
In a recent press release (via CNN), AMC Theaters announced that July 21-27 marked its single highest admission revenue week of all time. As in, the most tickets sold in the world's largest theater chain's entire 103 year history.
If you don't want to do the math, that goes all the way back to 1920—nineteen whole years before The Wizard Of Oz first introduced color to the silver screen. All nine Star Wars films have been released in that timeframe. Every single Marvel film that went to the big screen went to the big screen at AMC—not to mention, oh, every other movie from the last century. Still, Barbenheimer, the insurmountable power of the meme machine, and anticipation for the first genuinely exciting theater-going experience in recent memory definitively proved their supremacy over all.
AMC also reported that Barbenheimer's first weekend was the chain's busiest since the 2020 closure, and its second weekend even clocked in as the third busiest since reopening. While specific numbers for AMC have not been reported, Barbie and Oppenheimer have collectively brought in well over $1 billion worldwide (via Box Office Mojo), with Barbie raking in over half of that amount just by last Friday.
It seems like Nicole Kidman was right: we really do come to AMC Theaters to laugh, to cry, care. Because we need that, all of us.