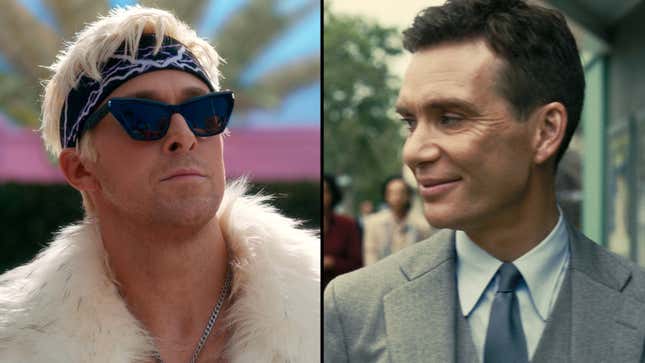 The unlikely rivalry between Barbie and Oppenheimer isn't just the most exciting thing to happen at the movies in years. It's a full-blown cultural event that figures to continue well beyond summer with a deep run into Hollywood's awards season. Of course, if the Academy Awards were easy to predict, it wouldn't be any fun trying to guess the winners. But sometimes clear contenders emerge early on, and this year we're pretty comfortable forecasting (or at least hoping for) an Oscar race full of Barbie and Oppenheimer match-ups.
You can now buy a Weird Barbie — but isn't that missing the point?
While Greta Gerwig's Barbie may be handily winning at the box office (it's the first film directed by a solo woman to reach $1 billion in ticket sales), Oppenheimer continues to exceed expectations; Christopher Nolan's film just extended its run in the 70mm Imax format, the toughest ticket at theaters right now. Both films are likely to remain at the cineplex, and in the public consciousness, for some time to come. That won't hurt when it's time to start handing out nominations. Here's a look at all the races where Barbie and Oppenheimer are likely to face off.
Above the line
Best Picture: A nomination in this category for both Barbie and Oppenheimer is among the safest predictions we can make at this point. If the Academy can't find room for these films among the 10 nominees in the best picture race, there's something wrong with the system. The once bright line between commercially successful movies and more prestigious fare (think E.T. versus Gandhi back in 1983) is getting dimmer, with populist crowd-pleasers like Top Gun: Maverick and Avatar: The Way Of Water landing best picture nods alongside art house titles these days. So this one's pretty much a given.
Best Director: Expect to see both Greta Gerwig and Christopher Nolan competing directly against each other in this race. It wouldn't be the first time. In 2018, Gerwig was nominated for Lady Bird, while Nolan was there for Dunkirk; both films were also nominated for Best Picture. It was the first Best Director nomination for both of them; neither has won an Oscar.
Best Adapted Screenplay: Gerwig and Nolan have also been nominated previously for their writing. Nolan was nominated in 2002 for Memento and in 2011 for Inception; both were original screenplays. Gerwig was nominated for her original screenplay for Lady Bird and for her adaptation of Little Women. Oppenheimer is based on the biography American Prometheus: The Triumph and Tragedy of J. Robert Oppenheimer by Kai Bird and Martin J. Sherwin, so it qualifies for the adapted screenplay category. Although Barbie features an original story, it's based on the Mattel toy line, and would also be considered an adaptation, according to the Academy's rules. Gerwig would be sharing the nomination this time with her co-writer, Noah Baumbach (who has been nominated for best original screenplay twice before himself—for The Squid And The Whale and Marriage Story).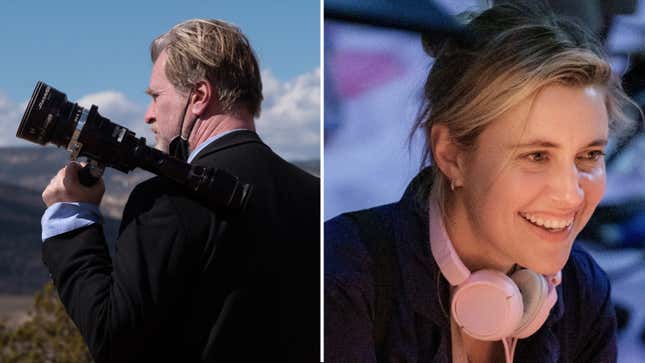 Acting categories
Best Actor/Best Actress: The lead performances in these films are rich and deep. Margot Robbie stands alone as the only best actress candidate of the two films, but we can see Ryan Gosling (Barbie's Ken) and Cillian Murphy (Oppenheimer's Oppenheimer) both scoring nominations for best actor.
Best Supporting Actor/Best Supporting Actress: It gets a bit more crowded when it comes to the supporting cast. For Barbie, both America Ferrera's and Rhea Perlman's performances are worthy of a nod. Then there's Emily Blunt and Florence Pugh, who played very different but equally compelling roles in Oppenheimer. When it comes to the men, Robert Downey Jr. and Matt Damon are solid bets from Oppenheimer. We're less bullish about Barbie's supporting actors, but perhaps Simu Liu's singing, dancing, "beach off"-threatening could be Ken-ough for a nomination.
Technical and creative categories
Best Cinematography: Hoyte van Hoytema's Oppenheimer work is gorgeous and award-worthy. But so is Rodrigo Prieto's for Barbie, in a completely different (almost opposite) way. Each of these cinematographers helped create the distinctive look of their respective films and should be recognized for their contributions.
Best Production Design: Sarah Greenwood created an entire world for Barbie, and juxtaposed it with the heightened reality of the real-world scenes. Meanwhile, Ruth De Jong recreated the Los Alamos site, plus various period-appropriate classrooms and homes, for Oppenheimer. Both were monumental tasks.
Best Costume Design/Best Makeup and Hairstyling: Jacqueline Durran's fabulous costumes ensured Barbie delivered on its early promise, while Ellen Mirojnick's vintage 1940s styles provided a sharp focus for Oppenheimer. And the makeup and hairstyles designed by Ivana Primorac (Barbie) and Luisa Abel (Oppenheimer) elevated both films.
Best Editing/Best Sound Mixing/Best Sound Editing/Best Original Score/Best Original Song: Both Barbie and Oppenheimer figure to be in the race for Best Editing (Nick Houy and Jennifer Lame, respectively). Oppenheimer's sound designer, Richard King, has a clear edge when it comes to Best Sound. The music for Oppenheimer could also easily earn Ludwig Göransson his second nomination for Best Original Score (he won in 2019 for Black Panther). Barbie's likely to be in the running for best original song for the power ballad "I'm Just Ken," written and produced by Mark Ronson and Andrew Wyatt.
Best Visual Effects: There were plenty of loud, effects-heavy films this year that may get more attention, and this arena is where genre films like Guardians of the Galaxy Vol. 3 and big-budget productions like The Little Mermaid tend to shine. But sometimes the best visual effects are the ones that aren't so obvious, so there's a chance the Academy could find room for Barbie and Oppenheimer in this category as well.