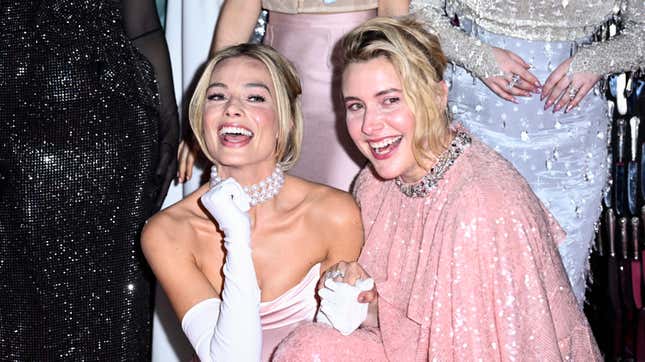 The Barbie juggernaut continues to smash records at the box office, with THR reporting this weekend that Greta Gerwig has just become the highest-grossing female filmmaker in the history of the U.S. box office, as her plastic-wrapped opus blew past the previous record-holder, Frozen II, on Friday.
You can now buy a Weird Barbie — but isn't that missing the point?
Gerwig's collaboration with Margot Robbie is doing huge numbers both at home and abroad, actually: Although it still has a ways to go before it can beat the second Frozen movie (co-directed by Jennifer Lee and Chris Buck) for global performance, it's already topped its only competition in the live-action realm, 2019's Captain Marvel. (Co-directed by Anna Boden and Ryan Fleck.)
Let's talk numbers: At the domestic box office, Barbie is closing in on the top performance of the year, period; at $502 million, it's now trailing behind The Super Mario Bros. Movie by just $70 million. (It'll have another $100 million to go beyond that if it wants to beat Avatar 2, which split its theatrical run between 2022 and 2023, overall, although it's already beaten the James Cameron movie's 2023 take.) For comparison, Frozen II grossed $477 million in domestic markets in the sunny, pre-pandemic days of 2019.
Internationally, Barbie will have a slightly harder time mustering the Kenergy to win: Although it's doing well in most markets (beating out its unlikely theatrical sibling Oppenheimer in nearly every country where the two are both in theaters) it's unlikely to match Mario's global appeal. (Slow rollouts, and even bans, in some countries in the Middle East, probably aren't helping there.) And it's really going to have to move if it wants to beat Frozen II internationally; Disney's movie did huge numbers (more than $100 million apiece) in both Japan and China during its theatrical run. Barbie, meanwhile, has yet to open in Japan, where Warner Bros. has faced criticism for pairing the movie up with Oppenheimer in memes—although the movie is getting some modest success in China, despite a slow opening in the country. (If you want to track the film's fate across the planet, Variety has an interesting piece comparing its performance with Oppenheimer's across pretty much every market on Earth.)
The upshot of all this is that Gerwig now finds herself the highest-grossing solo female director of all time—and the only such director to have cracked the billion-dollar box office mark. (Which is kind of depressing, when you consider there are 53 movies on the list, only three even co-directed by women.) Still, what's Barbie for if not breaking barriers (in a fiscally successful way)?