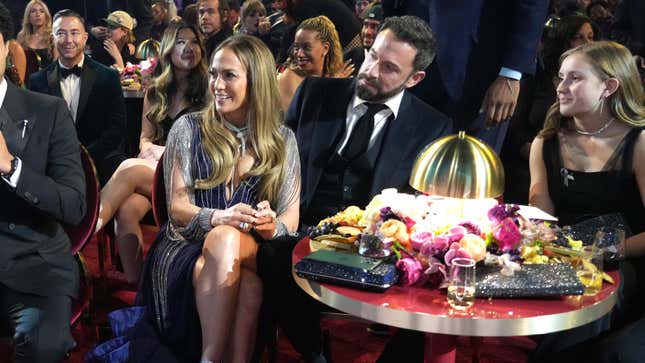 The meme cycle moves fast, but Bennifer moves faster—a skill we would imagine comes with the territory when you can't even buy 4 measly Dunkin' iced coffees and a whole box of munchkins without the internet eating it up.
The latest and greatest Ben Affleck face came from Sunday's Grammy Awards broadcast, during which the actor and Dunkin' spokesman's obvious disinterest went almost immediately viral. Armchair psychiatrists put forth their diagnoses. Lip readers took a stab at sussing out the seemingly tense conversation between Affleck and JLo. But thanks to a little good old-fashioned on-the-ground reporting, we finally have the real story. And it's... not really as much of a doozy as people may have hoped.
Our best answer to the burning question of whether Bennifer was mid-fight the entire Grammys or that's just How His Face Is comes from a user named @almostanna on Tik T0k (via Town & Country), who worked as a Grammys seat-filler and was seated next to Ben and Jen for a portion of the broadcast.
"I didn't know the meme about Ben Affleck being upset at awards shows, like I didn't know that was a thing. We also didn't talk to them because Ben Affleck didn't look happy," she said in her video.
G/O Media may get a commission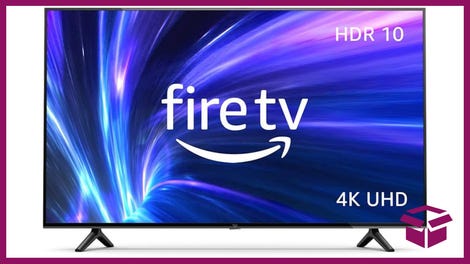 42% Off
Amazon Fire TV 50" 4K Smart TV
Still, it seems like the now-infamous exchange between the two was nothing more than a good bit of marital banter that unfortunately (or not, depending on how much you love Ben Affleck memes) got caught on camera. "The whole time they were cute and shit," said the seat-filler, before continuing:
J.Lo showed Ben Affleck the phone and was like, 'Oh my god, honey, look at this meme circulating about you,' and he was like, 'Oh god, this again.' Like, he knew during the performance that he was a meme. Like he knew, and he also chose just not to change his expression. I love how unbothered that is. So, I know that she was like on her phone and saw it and was like, 'Honey this is so funny, look at this,' and he was like 'Jesus Christ.'
In conclusion, "they were super lovey dove-y, like their hands were always intertwined... so it wasn't like, 'Oh my god, this is going to lead to divorce,'" she said. Good for them, although we're not gonna lie—we would love to see what kind of bonkers tattoo this particular breakup would have resulted in.