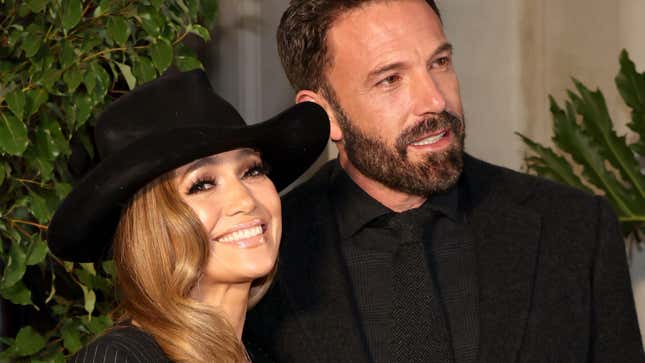 While Yellowstone may elicit a fair number of "dad show" jokes, Oscar-winner Ben Affleck is here to assure you at least one mother of two loves the series: Jennifer Lopez. Immediately raising the show's coolness factor by an unprecedented 100%, Lopez's approval of the ranch-based soap flies in the face of stereotypes about the show. Namely, it's for fathers to fall asleep to in between History Channel documentaries about the occult interests of the S.S.
Appearing on The Bill Simmons Podcast and free of concern for his wife's street credibility—though he did wonders for her ranch cred, Affleck told God and the world that his wife was a fan of the show. However, like us, he was "disturbed" by her fandom, particularly her interest in "the romance between Cole Hauser and Kelly Reilly." Affleck knows Hauser from his early days, acting opposite him in School Ties and Dazed And Confused, causing his anxiety to bubble over in outright befuddlement.

"Jen showed me a clip of her off of Instagram, the monologue she has with the kid in the car about the ways to become rich," Affleck said. "And then she was like, 'I love this story of these two.' I was like, 'Wait a minute? With Hauser? With Cole Hauser? What do you love about it?'"
"He is very convincing as that guy," he said. "I think America believes he is Rip."
Affleck doesn't seem as charmed by the show as his wife, probably because Yellowstone encroaches on his space. In addition to making a dad-bait biopic about a shoe executive, Affleck has spent the last dozen years making movies for and by fathers. Who could forget the viral trend of dads telling their kids to "Argo fuck themselves"? And didn't theatergoers have to show proof of fatherhood to be admitted into 2016's Live By Night? Affleck doesn't need Taylor Sheridan cutting in on his thing.
[via EW]