Lest you think we don't read the comments on AVQ&A, here's a question directly inspired by a comment on the "fascinating presence, bland results" installment: In a thread on Grindhouse, sarCCastro said this: "I caught it on opening night in a packed theater. From the beginning to the middle trailers, it was an absolute blast. One of those great shared experiences."
It's true that sometimes the audience or the setting or the mood of an event elevates it, regardless of the entertainment value of the event itself. So what are your best shared cultural experiences, where seeing something with exactly the right group made it much more memorable and enjoyable?
Tasha Robinson 
I know Peter, Paul & Mary don't get a lot of love around here—an awful lot of people seem to think being a Bob Dylan fan precludes enjoying PPM's sweeter, more harmonic takes on his raw work—but I'll always have a soft spot for them in my heart because of a concert I was dragged to as a sullen teenager, at the Filene Center at Wolf Trap in Virginia. It's one of those indoor/outdoor venues with a sprawling, canted lawn above a smaller open-air theater, and my family was up on the lawn; we had a pleasant picnic before the show, and the weather was perfect. Then PP&M came on and, as they so often did, encouraged the audience to sing along, and to learn harmonic parts for some of the songs. Sitting in the grass on a warm summer's evening, softly singing "Puff, The Magic Dragon" with a gently swaying, rapt capacity crowd of 7,000 people, redefined how I thought about concerts—as a shared experience, instead of a personal experience with a bunch of other people interfering. There's just something really special about an evening sing-along, even with no campfires in sight.
Chris Martins
I live in Los Angeles, and it was my first time visiting my city's locally legendary all-ages venue The Smell. The place is best known as the original stomping grounds of noiseniks like No Age, Mika Miko, and Abe Vigoda, but this was a different sort of show. It was my first time seeing Mount Eerie too, though Phil Elverum (and The Microphones, originally) had been one of my absolute favorites for almost a decade. I think part of the reason I'd never seen him live was some kind of fanboy need to preserve the mystery, to keep him shrouded in the mists of his and my ornately constructed mythology. Come to think of it, that's probably why I hadn't been to The Smell, either. So I pushed the club's door open, wandered back down the hall toward the music, and what did I discover? Elverum and a couple dozen fans, literally shrouded in mist. I had to trip over one of them to figure out that everybody, including the artist, was sitting cross-legged on the floor like some kind of pagan cult summoning the forces of the beyond to consecrated earth (er, concrete). The mystery dispelled a little, ironically as the fake fog thickened, since Elverum began to giggle about the wrong-headedness of firing off two smoke machines inside of what ultimately amounted to a 300-square-foot box, but what started off as aloof and magical became warm and incredibly intimate. Honestly, it was more than I could have hoped for.
Jason Heller
In 1995, an old band of mine made the five-hour trek from Denver to Casper, Wyoming, to open for Jawbreaker. It was just a few months before the band released its contentious major-label swansong, Dear You—but it was already common knowledge that the outspoken punk group had relinquished its independence, and longtime fans had already begun their "sellout" grumbling. The Casper show, though, completely dispelled any doubts about just how raw and passionate Jawbreaker still was. Even though it had signed to Geffen, it was playing a small indoor skate park in the middle of nowhere; there was no green room, and the guys in the band were completely approachable and gracious, even to some gushing fanboy in the Jawbreaker rip-off opening band. (That would be me.) What really pushed the show over the top, though, was the vibe that gripped the crowd. Each of the 200 or so sweaty kids packed into that room surely assumed—wrongly, as it turned out—that Jawbreaker was on the cusp of becoming the next Nirvana or Green Day, and that this was the last chance to see the group rock out in its native DIY element. Jawbreaker absolutely slew that night—even the new songs that later popped up on the unnaturally slick Dear You were as raw and heart-wrenching as its earlier stuff—and everyone sang and shouted and (in some cases) cried along like it was their last night on earth. It was seriously like attending punk-rock church, in the best possible way, and the experience became even more poignant in hindsight after Dear You flopped and the band broke up. I'd always known that Jawbreaker's music and Blake Schwarzenbach's archly poetic, angst-laden confessionals inspired a cult-like devotion; I was, after all, a happy, fanatical member of that cult. But the whole experience in Casper that night blurred the line between concert and catharsis. I'll never feel it again, and I'll never forget it.
G/O Media may get a commission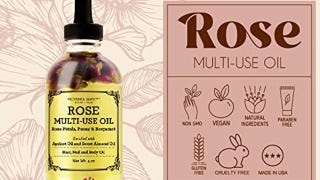 Provence Beauty Rose Multi-Use Oil
Vadim Rizov
I'm generally more inclined to wait a few weeks for crowds to die down, but for whatever reason, I wanted to see Borat straight out of the gate. So the Saturday of its release, I headed up to Times Square with a friendly viewing companion, only to find out that everything was sold out for a few hours. So we killed time at the (now-closed) Virgin Megastore in the area, and generally let anticipation surge for what seemed like a Comic Event. The wait was worth it: While the movie itself is kind of shoddy and way too eager to score cheap points against the oblivious, the energy in that packed theater was pretty electric. Rarely have I seen so many people on the exact same cultural page, responding to something presumably controversial with something like real-time catharsis. I haven't seen that kind of response since Eminem's cultural peak.
Claire Zulkey
Back in the days when Nathan Rabin and I both had out-of-town significant others and a lot more free time, he used to let me tag along with him to movie screenings. The time we previewed the Tim Burton movie Big Fish was one of those magical occasions where the entire audience was all in tune with the film, even though the theater was filled with hardened critics (and me). Ewan McGregor was charming as always, the movie was mystical while being just weird and funny enough to keep it from getting too twee, the scenery was super-saturated and gorgeous. When the lights came up, I don't think there was a single dry eye in the house, which was a relief to me, since I felt embarrassed to be crying next to Nathan, and tried to hide it for a bit. We all felt like we had been taken somewhere special for a few hours. Sadly, the movie didn't deliver the same impact when I watched it again later on, but that doesn't take away from the fact that it was one of those experiences that keeps me going back to the theater, because you just can't get that feeling at home.
Marcus Gilmer
I've mentioned this already on another corner of this website, but Arcade Fire's performance at Lollapalooza 2010 was absolutely stunning. Following a long, hot, sweaty weekend filled with sets both fantastic (Metric) and underwhelming (Lady Gaga), Arcade Fire had a chance to put its stamp on the fest as a closer. Seamlessly mixing new material from the then-just-released The Suburbs with older songs from previous records, the band poured every bit of energy into the performance, from the revved-up set opener "Ready To Start" through the epic "Sprawl II (Mountains Beyond Mountains)," with its pulsing shuffle. Even on more mid-tempo material, the band kept chugging, the throngs singing along to even the new songs, out only a few days before the fest. The band then hit another gear with the set-closing run that featured old and new: a frantic "Neighborhood #3 (Power Out)" built into a roiling wall of noise before bursting into "Rebellion (Lies)" that led into a visceral, searing "Month of May" and concluded with "Keep The Car Running," performed with thunderous intensity. But the highlight, and the true catharsis, came when the band rolled out "Wake Up" for the encore. It's the band's most recognizable song, appearing in movie trailers and commercials, and every person in the crowd seemed to be singing the words at the top of their lungs, nearly drowning out the band's performance. It was a thrilling moment to be lost in, surrounded by thousands of like-minded fans in the largest campfire sing-along I'd ever been a part of, a perfect, triumphant end to another mega music festival.
Kyle Ryan
James Murphy has a knack for capturing the experience of the aging hipster d-bag, particularly the powerful ambivalence that creeps in as you move deeper into your 30s. Maybe that's why hearing LCD Soundsystem perform "All My Friends" at the 2010 Pitchfork Music Festival will go down as one of my favorite memories. The Pitchfork crowd is Murphy's crowd, and it went nuts when the band started a spectacular version of the song. It's great on record, but live, the song just builds and builds: bass, drums, and that repetitive piano under Murphy's vocals for the first couple of verses, then right around 2:30, David Scott Stone's guitar comes in. About a minute later, it's joined by an additional keyboard melody from Nancy Whang. Around 5:30, Murphy and some others sing "oh oh oh-oh-oh-oh" as Stone starts frenetically playing these noisy washes of guitar, ushering in a two-minute climax punctuated by Murphy crooning "Where are your friends tonight?" You can't hear it on the (professionally recorded) video below, but it felt like the whole audience was singing along with him, and it was just one of those joyous, goose-bumpy moments that live-music fans are always chasing. "That was the greatest thing I've witnessed so far in my life," someone wrote in the YouTube comments. It'll rank up there in mine, too.
[pagebreak]
Marah Eakin
Mine's a bit of a cliché, but whatever. I was in England for a couple months during college to study Shakespeare and Tudor England. While I was there, being a total college-radio nerd and (at the time) insane Anglophile, I decided to see as many shows as I could. I went to a ton of little bar nights and saw Belle And Sebastian at the Royal Albert Hall, which was absolutely lovely. I think the absolute best thing I saw, though, was Radiohead's 2001 "homecoming" concert in Oxford, which the group apparently organized. Beck and Sigur Rós opened, and the crowd was just massive. I remember being totally pleased that all those videos of UK festivals I'd watched was pretty accurate. Everyone pogoed, everyone sang along, and everyone was surprisingly nice to each other. Even the band seemed to be having a genuinely good time, and during its second encore, after seemingly stumbling halfway through "Motion Picture Soundtrack," Thom just said into the mic "Aw, fuck it," and launched into "Creep," which the band hadn't performed in years and years. And the crowd just went apeshit. Absolutely crazy. Seconds after the band wrapped up, it started pouring, and everyone made their way back to their respective buses, totally happy and totally soaked. It seemed perfect at the time, and you know what? It still does.
Keith Phipps
I go to movies professionally a lot, but I go to the movies anyway when I'm off the clock. And not always for the right reasons. For instance, I didn't have to see Crossroads, yet I chose to anyway, alongside my wife-to-be and our own Scott Tobias. This was a Saturday-night show in downtown Chicago the week the film opened, so it was presumably packed with the city's biggest Britney Spears fans. And others. We fell into the latter group, but we were trying to keep our laughing low-key out of politeness. Others were not, hooting at the film's absurdities, from Spears' unnatural performance to the ludicrous girl-from-Mississippi-just-hits-the-road-to-L.A.-to-become-a-star-y'all plot. Then came a turning point: When Spears read her character's poetry aloud. Except it isn't really her poetry, it's the instantly recognizable words to the song "I'm Not A Girl, Not Yet A Woman" (co-written by the all-pro team of Dido, Max Martin, and Rami). Pretty much everyone lost it at that point, prompting one defensive viewer to shout, "It's not that funny." The key word here is "that." I'd never felt an entire audience turn on a movie before, but by the end, Crossroads was playing to a hostile, highly amused crowd. We all learned something that night, though I'm still not sure what.
Josh Modell
I feel like I've had quite a few of these over the years, so it's hard to pick one. I saw Bad Lieutenant: Port Of Call New Orleans in the theater with Zodiac Motherfucker the day I met him, so that made a loopy movie extra surreal. But I'm going to say, as my official answer, seeing the Tim & Eric Live tour in St. Louis in November 2007. It was before they were packing the big theaters, so the show was at a small club called Off Broadway. I had no idea that the audience would be so insanely dedicated: It was almost as much fun to see kids dressed up as their favorite T&E characters (there were several Caseys and Casey's brothers) as it was to watch them pelt the crowd with delicious Papa John's pizza. And then they hung around outside the club for ages afterward, meeting fans.
Steve Heisler
Patton Oswalt toured with Janeane Garofalo in, I wanna say, 2007, as some sort of Ratatouille deal. I caught the pair (with the always excellent John Mulaney opening) at the Lakeshore Theater in Chicago. Patton closed the show, and almost as soon as he took the stage, he noticed two ladies sitting in the front row being rambunctious. One was a post-op transgender, the other her grizzly friend. Patton went over to talk to them, and found the first woman to be warm and friendly, with the other cold and biting. Thus began a game where he'd ask the first woman a question about her past with genuine curiosity, she'd begin to respond honestly, and the second woman would snap in. Patton dubbed her "snagglepuss," and for about an hour, he antagonized the deserving snagglepuss much to the delight of himself, the audience, and even snagglepuss' friend. I've seen hecklers before, but rarely has the entire audience been on the edges of their seats anticipating the next jab. I mean, snagglepuss eventually stormed out in a huff, so I guess I feel a little bad for her. But man, was that show fun.
Steven Hyden
I've had plenty of memorable shared experiences at concerts, but they never really measure up to what I regularly experience as a sports fan. I'm not the type of person who just walks up to strangers and strikes up conversations, but if I'm at a bar watching my beloved Green Bay Packers, this sort of thing magically happens all the time. Not only are we talking, we're laughing, slapping each other's backs, and even hugging, depending on what's happening in the game. This sort of instant camaraderie that sports creates among people from all walks of life is my single favorite thing about following a franchise as historic and iconic as the Packers, a team that has fans from all over the world. It's one thing to like the same band as a person you've just met; you'll likely end up having a very pleasant conversation about your favorite album, or doing an inventory of all the shows you've seen. But you meet someone who loves your team—especially if you're at some far-flung destination thousands of miles from home—you've found an instant confidante, drinking buddy, and soulmate all rolled into one.
Marc Hawthorne
Ha, funny that I just finished writing my sports entry. My initial response was going to detail how truly exhilarating it was to be sitting in the stands at the Coliseum in Oakland on an early August afternoon in 2003, watching the A's come from behind in the bottom of the ninth off Yankees closer Mariano Rivera. Baseball fans really do end up believing that whatever silly superstition they've come up with that day has some sort an effect on the outcome of the game, and on that afternoon it genuinely seemed as though the sellout crowd had used its collective power to will Miguel Tejada to hit that double off the left-field wall and to make Hideki Matsui misplay the ball in such a way that Eric Chavez was able to come all the way around from first. I've never really felt like I've had much in common with the average A's fan, but that day we were hugging each other like long-lost pals, and the feeling was so magical, so euphoric, nobody wanted to leave the stadium. I was with an ex-girlfriend, who's never been much of a baseball fan, but since then, she's put great experiences into context for me by saying "It was kind of like that day when we saw Miggy beat the Yankees." But since probably nobody here wants to hear a sports story, I'll officially offer the tale of getting a photo pass for Lollapalooza 1994, which took place during a summer when, despite the recent passing of patron saint Kurt Cobain, a lot of us really did believe that alternative rock could change the world. The lineup included bands like Smashing Pumpkins (when Billy still had hair), The Breeders (when Kelley was still doing junk), Stereolab, The Boo Radleys, Shudder To Think, etc., but it was the very beginning of the Beastie Boys' set, blown up with a deliriously energetic version of "Sure Shot," that will be burned into my memory forever. Up in the photo pit in a makeshift venue on the campus of Cal State Dominguez Hills in Southern California, shielded from the crowd by some railing I didn't necessarily trust, I could feel the chaos going on behind me, and when I turned around, I saw a frantic pile of my people, all moving the way the magazines said we did, all coming together to share a moment where it felt like maybe alternative culture really was going to reign supreme and cure all of our ills. Instead, we got Silverchair.
Nathan Rabin
At the risk of opening myself up to mockery, when I think of great shared cultural experiences, my mind goes not to seeing Guy Maddin's amazing Brand Upon The Brain! with a full orchestra, live sound effects, and Crispin Glover providing narration, nor discovering Cornershop as the opening act for Stereolab while high on mushrooms while a sophomore in college, but rather to seeing Phish on New Year's Eve in Miami in 2010. My girlfriend was into Phish when she was in high school, and I have been making an ongoing attempt to broaden my horizons and free my mind. So I thought it would be neat to throw my prejudices and preconceptions aside and see Phish's entire New Year's run in Miami. Phish reunited not long before after crashing and burning sometime in 2004, due to Trey Anastasio's heroin addiction, so there was something strangely redemptive about how joyous and full of life the band and especially the crowd seemed. It was an event characterized by pure, infectious, radiant joy, and the crowd was a huge part of it. There was a powerful symbiosis going on that night, an inclusive, even ecstatic vibe that made even a recovering cynic like me feel weirdly at home.
Lindsey Thomas
A few years ago, a friend had a pair of press tickets to see U2 and was looking for someone to join him. I grew up listening to the band, thanks to my parents, but can't say I cared much one way or the other. And yeah, Bono can be really annoying. But I don't get to see a big, splashy arena show for free every day, so I said sure. I'm glad I did, because that was easily the Kool-Aid-drinkingest crowd I've ever been a part of. Bono can get people to cheer for anything—and he'll make it seem like a life-affirming event. The show took place in Minnesota, so at some point he dedicated a song to the doctors at the Mayo Clinic, basically getting everyone to holler and clap for the wonders of modern medicine. And I have to admit, I was like, "Yeah! Doctors are fucking awesome! Woo!" At a separate concert, my boyfriend saw Bono get the crowd riled up over the fact that U2 owns the masters to its songs. (Yay?) Ultimately, I wouldn't say I was any more a fan of the band when I left than when I had arrived, but ever since then, whenever someone says an unkind word about them, I say, "But have you seen them live?"
Todd VanDerWerff
To me, the wonders of the shared experience all come back to the live theater. Every time I'm within a few hundred miles of New York City, I try to get in and see a show, and I've ended up supporting the theater scenes in podunk towns all over the country, just because when you're in an audience and a show is working, there's nothing like it, no matter who's onstage. My most notable experience was in 2002, when my college theater group traveled to New York City to take in a variety of shows. The best reviews were all around a new show with a terrible title, Urinetown: The Musical, and as the cosmopolitans we were, we decided to take it in. I ended up precariously perched on a stool in the uppermost balcony of one of the smaller houses on Broadway, leaning over the edge just to see everything that was going on, one inch from plunging over the side and into the crowd below. (The theater was so decrepit that Urinetown eventually closed not from lack of ticket sales, but because the building was torn down.) The show still fairly fresh for the cast, and they tore through the material like it was the most important show in the history of theater, instead of just a funny, silly musical about people who have to pay to pee. The crowd was in on it from the word go, the boundless love for the show filtering all the way up to those of us perched on our stools in the top. When the show was over, the cast was so overwhelmed by the applause that they stuck around for at least an hour afterward to talk shop. And the last to go was the most famous cast member, TV's John Cullum. The stage gets a bum rap as a dying art form, but when it works, there's absolutely nothing like it.
Zack Handlen
I actually thought Star Wars: The Phantom Menace was a good movie for a while. I saw it at a midnight showing, opening night, and I stood in line waiting to get my seat. Remember how, when Phantom Menace came out, back before hope died, when evening news programs would use footage of geeks dressed in costume and standing in line as filler between stories about fires and swimming puppies? Yeah, it was that sort of line. There was even a reporter with a video camera wandering around, but I wasn't dressed up in my Slave Leia outfit, so they never talked to me. It was all tremendously exciting; I'd seen the trailer and heard "Duel Of The Fates" about a billion times, but I hadn't even thought I'd be able to see the movie opening night. I didn't get around to buying tickets 'til a day or two before, but I was in Maine, so there were plenty of seats left. I don't really remember anything about the movie itself, which is probably why I clung to the "It wasn't so bad" line for so long afterward. I do remember cheering when the score kicked in, and as the first lines of text rolled across the screen. We were all so excited I forgot to take notes, which made the first six hours of the film a little hard to follow—something to do with people arguing with green aliens that looked kind of like bugs, but then there'd be lightsabers, so that was okay. Really, The Phantom Menace didn't matter. It did later on, when I caught it on TV and realized that a) Jake Lloyd had less charisma than the cable box (at least the numbers of the cable box changed; Lloyd's face was like petrified boredom) and b) everything else. But at the time, it was like the best rock concert I'd ever been to, only nobody got laid afterward. However much respect I lost for Lucas and his franchise in the following years, I still have that.