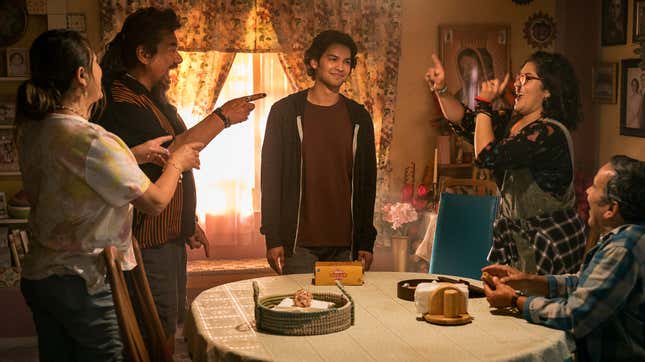 This hasn't been a great year so far for DC superhero movies. Shazam: Fury Of The Gods made less in its entire theatrical run ($134 million) than The Super Mario Bros. Movie did in its first weekend ($146.3 million). And the less said about the mess that was The Flash, the better. Which brings us to DC Studios' next release, Blue Beetle, opening in theaters on August 18. Saving the world is one thing, but having the fate of an entire studio franchise in your hands is something no superhero would relish. Not only that, but Blue Beetle is the first superhero movie with significant Latino representation both on and off-screen, so industry folks will be watching its performance closely. Those are some pretty high stakes for a late summer release based on a mid-tier comic-book character most moviegoers haven't heard of.

Why Robert Rodriguez still loves "Spy Kids"
There are signs that Blue Beetle is up to the challenge. Warner Bros. has done its part to boost awareness of the film. The trailer is currently running in theaters before every showing of Barbie, and at most showings of Teenage Mutant Ninja Turtles too. There's plenty of Blue Beetle merch and toys in stores right now, and even a tie-in promotion with Reese's Peanut Butter Cups. You may have seen the poster on billboards, benches, and buses, or the many targeted ad spots on TV and online. And early preview screenings have already generated enthusiastically positive responses from critics.
Representation matters
One emerging theme is that Blue Beetle strives to deliver an unapologetically authentic representation of Latino culture. The film tells the origin story of Jaime Reyes (Xolo Maridueña), a college graduate from a Mexican-American family who's still figuring out his life when he comes into contact with a powerful alien relic that gives him superpowers. Unlike other heroes who have to hide their secret identity from their loved ones, Jaime's family is fully aware of his fantastic new abilities. He's supported on his path to heroism by his mother (Elpidia Carrillo), father (Damían Alcázar), sister (Belissa Escobedo), uncle (George Lopez), and Nana (Adriana Barraza). As screenwriter Gareth Dunnet-Alcocer puts it in the film's production notes: "Good luck trying to hide a secret from your mom in a Latino household, they always know!"
Although Blue Beetle marks a big step forward for representation, Jaime isn't the first Hispanic or Latino comic-book hero we've seen in live-action. On television, The CW's Arrowverse had Cisco Ramon (Carlos Valdes), who became Vibe, ABC's Agents of S.H.I.E.L.D. had Yo-Yo Rodriguez (Natalia Cordova-Buckley), an inhuman, and the Robbie Reyes incarnation of Ghost Rider (Gabriel Luna). And there was Molly Hernandez (Allegra Acosta) on Runaways. In film, the record is spottier and limited to supporting players like Sunspot in X-Men: Days of Future Past and El Diablo in Suicide Squad. With all those qualifiers out of the way, we can still safely say that Blue Beetle is the first Latino comic-book character to star in his own live-action solo film.
Beyond the screen
The Latino presence on the film extends behind the scenes as well. Dunnet-Alcocer grew up in Queretaro, Mexico, while director Ángel Manuel Soto is Puerto Rican. Prior to Blue Beetle, Soto was best known for his film Charm City Kings, which made a splash at Sundance in 2020, winning a Jury Prize for its ensemble. A planned theatrical release was canceled due to the pandemic and the film eventually landed on HBO Max (you won't find it on the newly branded Max anymore, though—Charm City Kings was one of several titles removed from the service last year). In an ironic twist of fate, Blue Beetle was originally intended to go directly to streaming, but wound up getting a full release in theaters instead.
Dunnet-Alcocer and Soto both infused their individual cultural backgrounds into the film, showcasing their shared values of humor, warmth, and family, not to mention specific pop-culture references aimed directly at Latino audiences. Other Latino creatives also got a chance to make their mark on the film, from the costumes designed by Mayes Rubeo to the concept art by members of 9B Collective.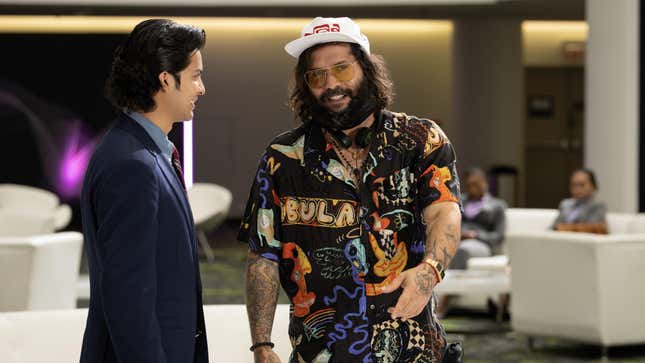 The film already has the support of several Latino organizations in Hollywood, including the Congressional Hispanic Caucus Institute, LA Collab, Latino Film Institute, National Association of Latino Independent Producers, and the National Hispanic Media Coalition. In a letter of support published in Variety and co-signed by 27 different groups, members of the Latino community in the entertainment industry expressed their optimism about the progress represented by films like Blue Beetle, "the first superhero movie directed, written, and starring Latinos," and encouraged others to amplify the work in the absence of writers and actors currently on strike.
A new beginning for the DCU
DC Studios is currently in the awkward phase of winding down its Justice League universe—including Ben Affleck's Batman, Henry Cavill's Superman, and Gal Gadot's Wonder Woman—and heading in a new direction under the leadership of James Gunn and Peter Safran. Blue Beetle was one of the few films set in motion by the old regime whose characters could potentially carry into the new one. That will likely depend on how well it does at the box office.
The Latino pedigree is a major part of its appeal, but there are other factors at work that could help the film succeed. For one thing, although Blue Beetle is a DC property, this is essentially a standalone film. At least, that's how it's been marketed. There was a time when that would have been seen as a drawback, but now it's an advantage. It doesn't rely on any previous connections to the DCEU and it's not burdened by complicated continuity. There's no homework required.
Another thing it has going for it is that it wasn't constantly in the news for the wrong reasons. There were no major behind-the-scenes squabbles, creative differences, talent departures, or extensive reshoots. The creative team didn't have to make any major adjustments to the story to keep it in line with franchise continuity. That in itself may not necessarily be a draw for audiences, but it helps to not actively deter them.
Whether all of this can overcome the very real and growing phenomenon of superhero fatigue remains to be seen, but for the first time in a long time there's a chance that DC might break through the noise by offering a fresh, creative, and authentic take on the genre that audiences haven't seen before. And if Blue Beetle does that, it will be cause for celebration among fans too.