Bob Mould has spent quite a bit of time examining his back catalog during the last few years. He performed Sugar's landmark '92 record, Copper Blue, in its entirety during a series of concerts, and recently unearthed cuts from his '89 solo debut, Workbook, in support of a reissue. For many artists, such a look back would be stultifying; for the ageless 53-year-old, revisiting the past has a galvanizing effect on his new music.

That was evident on 2012's aggressive, urgent Silver Age. It's even more obvious on the new Beauty & Ruin. With able studio support from his touring band (bassist Jason Narducy and drummer Jon Wurster), Mould slashes his way through timeless-sounding melodic punk-pop cuts. "Little Glass Pill" is a visceral modern take on Hüsker Dü's hardcore days; "Kid With Crooked Face" and "Tomorrow Morning" would fit right in on Flip Your Wig; and "I Don't Know You Anymore" recalls the noisy midtempo rock of Sugar circa File Under: Easy Listening.
Beauty & Ruin's non-speedball moments aren't always as gripping or distinctive—the acoustic guitar-heavy "Let The Beauty Be," especially, lacks energy—but the attention to detail is impressive. A repeating doo-wop rhythm adds swing and groove to the smoldering space-rock of "Nemeses Are Laughing," while the mellower, almost jaunty "Forgiveness" boasts twinkling percussion and a wistful, autumnal guitar line.
What ultimately makes Beauty & Ruin tick is Mould's willingness to be painfully honest about his personal shortcomings, past and present. "Kid With Crooked Face" is particularly self-critical: "My map of failure covers every inch of skin / I want to carve it clean, where do I begin?" This vulnerability is even more powerful as he openly grieves his father's death on "The War," the record's most harrowing song. As Mould cries out the lyric "Nothing left will ever be the same," the anguish is evident in his voice. By the song's coda, he sounds desperate and weary as he quietly intones, "This war has worn me down / Broken dreams and a hole in the ground / Don't give up / And don't give in."
G/O Media may get a commission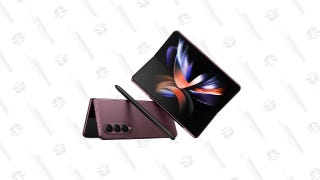 Save Up to $300
Galaxy Z Fold4
"The War" is also Beauty & Ruin's turning point. From here, Mould's lyrics stop dwelling on regret and failure and start actively seeking redemption and forgiveness, presumably in order to shed the past. By the album's final song, "Fix It," he's facing an optimistic future head on: "Fix it, fix it, full enough / Time to fix who you are." On Beauty & Ruin, second chances aren't taken for granted—they're embraced with unfettered ferocity and humble grace.