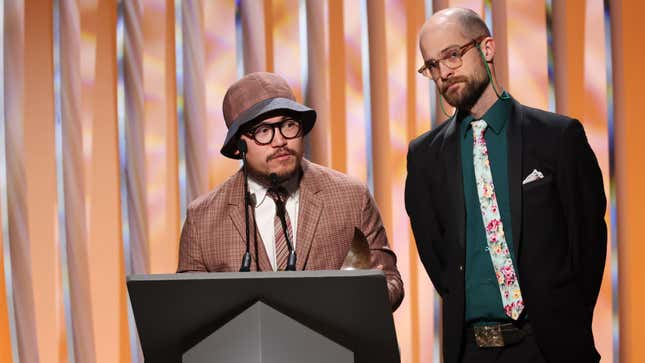 As half of writing-directing team Daniels, Daniel Kwan is one of the people largely responsible for one of this year's more surprising Oscars contenders, sci-fi comedy Everything Everywhere, All At Once—which is, to the best of our knowledge, the only Best Picture nominee in the long history of the Academy in which martial artists give themselves combat-vital power-ups by literally shoving things up their own butts. (Although it's been a minute since we've watched On The Waterfront.)
That also makes Kwan partially, if not responsible for, then at least associated with, the reactions the film has garnered from fans—most of which have been rapturous, energetic, and kind, in keeping with the spirit of a film that ultimately skews optimistic about people's potential to be good. But also occasionally not, which might explain why Kwan (not for the first time) has issued a brief request to fans ahead of the film's performance at tomorrow night's awards, which we'll paraphrase thusly: Please do not act like rampaging dicks if EEAAO doesn't win any awards.
Kwan was more eloquent, admittedly, hopping on Twitter (alongside a notification that he's going to be making himself scarce on social media for a bit) to make his request:
The last thing I ask of any fans of our film is to be gracious and kind tomorrow, especially if we don't pick up awards that you might have felt we deserved. I love every one of the films we are up against for different reasons. More importantly, I have grown to love the people behind each of the films as I have gotten to know them this year. I already have everything I could ever want, and there is no need to be angry on our behalf.
Fingers crossed that some of those lessons in cross-dimensional empathy sunk in; meanwhile, Kwan also released an Instagram post this weekend with more personal reflections on the year since the movie had its SXSW debut; it's lovely stuff.  Everything Everywhere, All At Once is nominated for 11 awards this year, with Kwan personally up for two, for Best Directing and Best Original Screenplay.