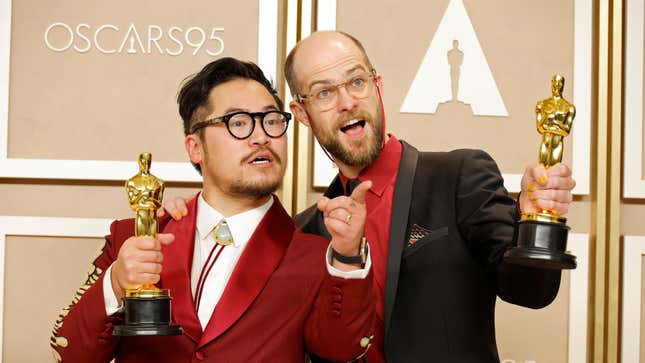 Going from indie acclaim to a big franchise is pretty unsurprising these days, but that doesn't stop some film fans from freaking out when Mickey Mouse gets his little gloved paws (hands?) on their faves. Following the news that Everything Everywhere All At Once directors Daniel Kwan and Daniel Scheinert (aka Daniels) were working on the forthcoming Star Wars show Skeleton Crew, the newly-minted Oscar winners became the latest subject of this particular brand of ire.

Movies that Matter: The Battle of Algiers - The False Documentary
"Lol, all of the people @ing us about getting sucked up by the 'corporate machine' can chill," Kwan writes in an Instagram story (via Entertainment Weekly).
Daniels are hardly the first award-winning, indie darlings to make the leap to more commercial fare. Last week's episode of The Mandalorian was helmed by another director with A24 cred, Lee Isaac Chung; the Minari filmmaker's next feature will be the Twister sequel Twisters. Over on the Marvel Studios side of Disney, Chloé Zhao, Taika Waititi, and Destin Daniel Cretton are among those who have taken the leap from intimate dramas to blockbuster IP action.
"We aren't working on a whole series, we guest directed one episode," Kwan continues. "Jon Watts approached us to do an episode awhile ago (before EEAAO even came out). We love Jon, love Star Wars, love learning new tech, we love meeting new cast and crew, and we needed the days to keep our healthcare (!!!) so it was an easy yes. We shot it last year and had an incredible time working with the most talented cast and crew and im excited for you all to see it."
Like Daniels, Skeleton Crew creator Watts got his start making music videos, working with acts including TV On The Radio and Sleigh Bells before directing the Sundance breakout Cop Car, followed by the trio of Spider-Man movies starring Tom Holland.
In today's landscape—and with that note about healthcare reflecting recent comments made by Shannen Doherty and Everything Everywhere star Ke Huy Quan—the idea of selling out doesn't really exist in the same way it used to. Daniels were previously considered for Marvel's Loki series, but declined to prioritize Everything Everywhere All At Once. In a solo outing, Kwan still dipped a toe into the comic book sphere and directed an episode of Legion, FX's gloriously psychedelic X-Men series.
"Our next film will be an original daniels project so you can stop worrying (and stop bothering me about it)," the Swiss Army Man c0-director concludes.