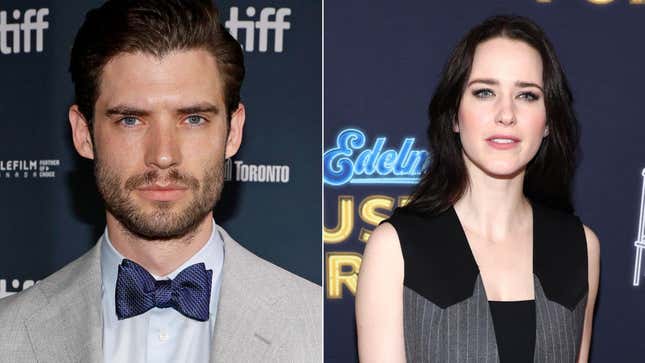 Perhaps in an effort to introduce a new talking point that has nothing to do with The Flash and how it may have fared at the box office, James Gunn and Peter Safran's DC Studios has made its first big casting announcements—and it's for two of the biggest characters they've got: According to Deadline, David Corenswet and Rachel Brosnahan have been cast as Superman and Lois Lane in Gunn's upcoming Superman: Legacy.
Dwayne Johnson on why "Black Adam" was the movie he had to make
This comes just a day after reports came out that Corenswet and Brosnahan had filmed screen tests for DC Studios, though Corenswet had been paired with Emma Mackey for his and Brosnahan had been paired with Nicholas Hoult for hers. The men had to go through two days of it, filming scenes both as Clark Kent and as Superman, with the Superman scenes reportedly going to be a huge factor in DC and Warner Bros. Discovery's final decision—apparently "how they look in a superhero suit" is a big part of this process.
Deadline also notes that the reason this happened relatively quickly is that SAG-AFTRA's contract is up on June 30, and everyone involved wanted this on the books before a potential actors strike happens. Similarly, if a strike does happen, Corenswet and Brosnahan definitely won't be showing up at Comic-Con this year, since guild rules would prevent them from promoting stuff like this. That means this might be the last we hear about this project for some time, but at least we can start getting acquainted with our new Man Of Steel and Reporter Of Steel.
This will be Corenswet's first big leading role in a major studio film, having previously popped up in Pearl and We Own This City. Deadline suggests that he's been a frontrunner since early on. Brosnahan, meanwhile, just finished her run as The Marvelous Mrs. Maisel, which earned her an Emmy. Deadline says that casting will move on to Lex Luthor and Superman's pal Jimmy Olsen now that the two biggest characters have been nailed down. After that, maybe they'll do Jor-El and Perry White, or maybe Ma and Pa Kent, and then that's basically all of the Superman characters that need to show up in a movie (unless Gunn is doing a Brainiac thing... hey, just as long as the third act isn't "lazy").