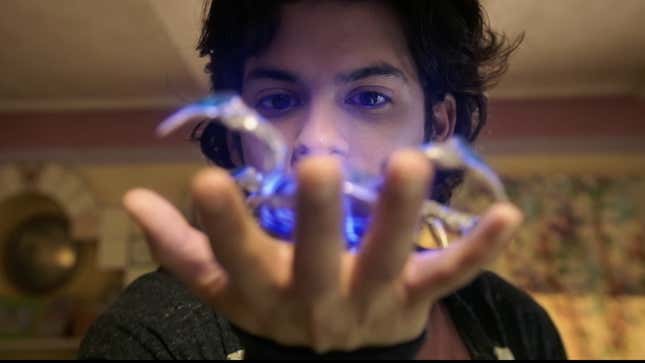 If you're sick of seeing a new Batman and Superman every five years (or less), DC finally has someone brand new on offer: Jamie Reyes, a.k.a. Blue Beetle. The trailer for the new film, premiering in theaters August 18, dropped on Monday. It's a major departure from the typical grimdark fare for Batman, who after all is (in the words of Jamie's dad, played by George Lopez) a fascist.
Why Benedict Cumberbatch Plans To Take A Break
Jaime (Cobra Kai's Xolo Maridueña) is just a regular guy who is looking to lift himself and his family higher in the world. Instead, he delivers them right into an alien conspiracy when he inadvertently gets his hands on—and fuses with—the mysterious Scarab, "some kind of world-destroying weapon," according to the trailer. (It's like if the spider that bit Spider-Man was mega-advanced alien technology.) The Scarab's purpose is to protect its host, and to that end, it adorns an unwilling Jamie with a kick-ass exoskeleton and any weapon he can possibly imagine. (It's like if Iron Man's suit was mega-advanced alien technology.)
Unlike some other comic book characters we could name, Jaime's family is along for the ride as he learns to harness the Scarab's power into superheroics. Good thing, too, because a villainous Victoria Kord (Susan Sarandon) is dead-set on acquiring the item for herself.
Maridueña has the distinction of being DC's first big-screen Latino hero. Much like his would-be peer, Leslie Grace's Batgirl, Blue Beetle was originally slated to debut on HBO Max. For whatever reason, DC Studios saw fit to promote Blue Beetle to a full theatrical release and demote Batgirl to no release at all. This occurred before James Gunn and Peter Safran were brought aboard, though the new bosses have been vocally supportive of the decision. (Gunn shared on Twitter that the film "rocks," encouraging followers to check out the "warm, funny, wonderful film" in theaters between tweets about Guardians Of The Galaxy Vol. 3.)
As one of the films that predates Gunn and Safran's planned slate (like Shazam! Fury Of The Gods and Black Adam before it), it's unclear where and how Blue Beetle fits into DC's multiverse. The film will debut after the big reset heralded in The Flash, so Jaime may become part of the main continuity alongside planned films for Superman, Batman, and Supergirl. However, he could just as easily belong in the "Elseworlds" category with Robert Pattinson's Batman and Joker. Whatever the case, they do have Big Belly Burger in Jamie's universe, so true DC fans should feel right at home.