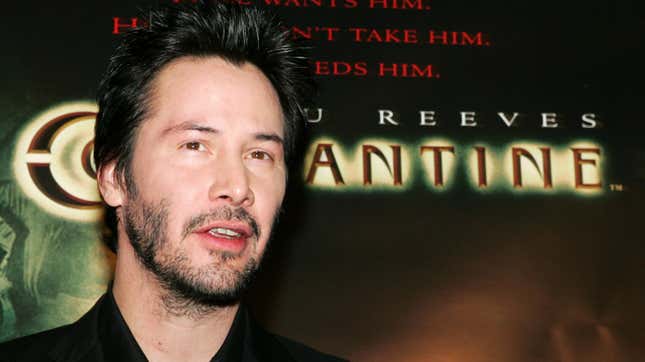 When DC Studios co-bosses James Gunn and Peter Safran announced their initial slate of DC comic book movies at the end of January (while throwing some unfair shade in the direction of the Arrowverse), they made it clear that existing projects like Joker: Folie À Deux and the continuation of Matt Reeves' The Batman universe would still be happening, but that they would be "labeled clearly"as "Elseworlds" projects to set them apart from the rest of the inter-connected MCU-style thing they would be building. With the specificity in Gunn and Safran's announcement, though, it was notable that another previously confirmed project—Keanu Reeves' Constantine sequel—was completely absent.
A Quiet Place: Part II's Millicent Simmonds thinks she'd be a goner if aliens attacked
But apparently that was just some kind of oversight, or a conscious omission due to the character's tenuous connection to the superhero world, because Entertainment Weekly got confirmation from Warner Bros. that Constantine 2 is still on. So that's cool. It's good to know that the people running Warner Bros. these days aren't a bunch of Matthew Perry-types with inexplicable axes to grind against Reeves (one of show biz's most lovable figures). The Constantine sequel, which will be directed by Francis Lawrence (returning from the first movie), doesn't seem to have made much progress, since it's only been a few months, but Reeves is pretty busy making a bunch of John Wick movies. It'll be a while before this happens anyway.
That all aside, the lack of information here does raise a curious point: Is Gunn and Safran's DC Studios label also in charge of comic adaptations that fall under the Vertigo umbrella (like Constantine does, from its Hellblazer origins) or DC's current Black Label branding? We ask because we'd really like to see an adaptation of The Nice House On The Lake, and we want to know who we should be addressing our letters to.