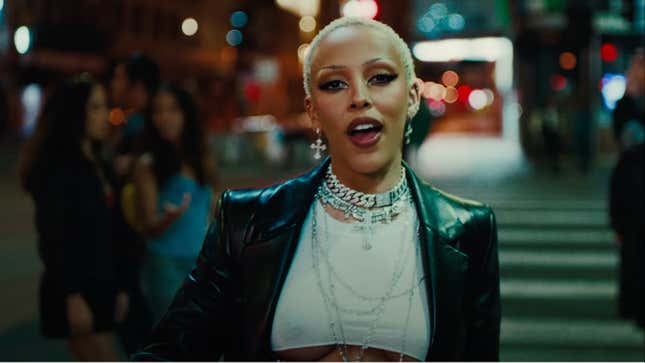 In low-rise flares, seven chains, and a leather duster that Neo would envy, Doja Cat is back, and rapping more skillfully than ever. On her new single, "Attention," Doja sounds calm, confident, and freshly invigorated—most of all, she just seems cool. Although an accompanying music video directed by Tanu Muino leaves plenty of low-light room for horny, kaleidoscopic weirdness, the humanoid, crooning pop of Doja's last album cycle (a project that dominated TikTok) is gone. Whether that's permanent or not, Doja's comfortability inching away from pop stardom—not to mention her talents on the mic—hints that this change could be good for the music.
As Doja strolls down a busy nighttime city street filled with street vendors and clubgoers, she leans into a casual swagger that lays the bedrock for one of her strongest verses in a minute, a moment that feels akin to Megan Thee Stallion's 2022 Coachella debut of "Plan B". In the music video, Doja dodges disfigured or masked passersby, sometimes shoving into one just to remind the street she doesn't give a fuck. She easily lands punches at naysayers who clown her look, pit her against Nicki Minaj, and ultimately, ignore her music. As she plainly puts it, "I am not afraid to finally say shit with my chest."
Jennifer Aydin talks "Real Housewives Of New Jersey," JLo, and more
She's been walking the walk on that statement, too, often in ways that feel surprising from such a major artist. Earlier this year, Doja Cat publicly decried her last two albums, 2021's Planet Her and 2019's Hot Pink, as "cash grabs." The statement arrived after hinting that she planned to return to her roots as a rapper on her next project.
"planet her and hot pink were cash-grabs and yall fell for it," Doja Cat tweeted. "now i can go disappear somewhere and touch grass with my loved ones on an island while yall weep for mediocre pop." (The A.V. Club, for what it's worth, did not exactly gush over Planet Her). Although some of that "mediocre pop" absolutely still hits, Doja's imminent MC era is cause for attention and celebration.