Ever since RuPaul's Drag Race started taping its finale episodes live, the show has had difficulty figuring out a format that maintained dramatic stakes while taking advantage of a live audience. That changes with this year's "Grand Finale," which focuses entirely on the final four queens and adds a competitive element by turning the episode into a lip sync showdown that forces the contestants to continue fighting until the very end. The addition of a reunion episode this season meant that the finale wouldn't need to spend time on each eliminated queen's journey, and while some of the past contestants didn't get much screen time in the reunion, that's for a good reason.
We don't need to check in with queens that didn't make much of an impression, and I'm really happy that the show decided to spend more time on the major topics of the season rather than being more egalitarian and giving all of the contests some screen time. If you want to be spotlighted, you need to force yourself into the spotlight, and some queens were much better at that than others. The "Grand Finale" doesn't have to spend time on the eliminated queens beyond the opening runway introducing each contestant and showing off their finale looks, and devoting attention to the final four is a decision that makes this episode much more dynamic and engaging than past finales.
Because there's a final four this season, RuPaul can do something different with the finale. The best scenario for a lip sync is one-on-one, and this year's "Grand Finale" has two queens facing off against each other in preliminary rounds with the winners going on to a final lip sync that determines the winner. Before they compete, they spend some time with RuPaul looking at their journeys on the show and how their lives changed during the filming process, which is especially emotional for Shea, who lost her father and sister to cancer within just a few months after being cast on the show. I watched tonight's episode in a completely packed bar, and there was total silence when Shea was telling Ru the details of her personal tragedy. It's a very sad situation, but I'm really happy that Reverend Coulée was there to support her son.
RuPaul spins a wheel to determine which queen is the first to lip sync for the crown, and it lands on Trinity Taylor, who chooses Peppermint as an opponent because she wants a challenge. There are two song choices for the first round, and Peppermint picks the box containing Britney Spears' "Stronger," which immediately puts the odds in Peppermint's favor because she had a great Britney performance earlier this season in the Kardashian musical. Trinity dominates the first half of the lip sync, and she's going all out from the very beginning. She's a lot of fun to watch, but Peppermint has a stronger strategy here, starting at low energy and building to a reveal that energizes her entire performance.
G/O Media may get a commission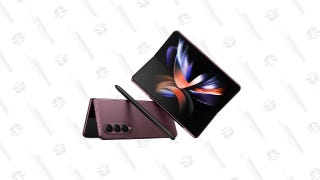 Save Up to $300
Galaxy Z Fold4
Trinity starts with high energy, but she doesn't have much room to grow, whereas Peppermint begins with a quieter performance that builds to the moment when she transforms her miniskirt into a longer dress and throws off her wig to reveal a shorter wig underneath. Peppermint's performance is uninspiring at the start, but it's an intentional decision that gives her lip sync clear dynamics, making the reveal all the more dramatic. The bar I was in went crazy when she entered the next phase of her performance, and it didn't lose any impact when I watched it again at home without a giant crowd. There's no denying that Trinity goes harder with her lip sync, but it's not necessarily about who puts in the most effort. It's about who puts on the best show, and Peppermint calculates her performance so that her reveal blows the crowd away, and that one moment overshadows whatever Trinity is doing.
Having sharp moves will only get you so far, and during the first round of lip syncs, I couldn't stop thinking of the Gypsy song "You Gotta Get A Gimmick." Trinity tossed off her skirt to reveal a very tight tuck, but it's not on the same level as a reversible outfit and a double wig. You want to have something that will force the audience to remember you, and Sasha Velour understands this as well. A Shea versus Sasha lip sync is already full of tension because of their friendship on the show, and Sasha uses that tension to her advantage with her gimmick, which involves shooting rose petals across the stage at different points in her performance. Sasha's use of the rose has extra relevance this season after Valentina co-opted the rose emoji as a symbol of support from her fans, but that wasn't the case when Sasha deployed her rose strategy. She's figured out a cool visual element that will enrich her performance, and she times it extremely well to the key moments in Whitney Houston's "So Emotional."
Sasha never lip synced this season, and her performances in this episode make me wish that she had because she does outstanding work with both of her Whitney Houston songs. The moment she pulls off her wig and unleashes a waterfall of roses on her signature bald head is the moment when she wins the first round lip sync, but beyond that gimmick, she does a better job than Shea realizing the emotional content of the song. The entire song is about getting overwhelmed with emotion, and Sasha brings a manic energy to her performance, especially during the chorus, which reinforces the intensity of this feeling. Shea actually hasn't been an especially memorable lip sync performer this season, and I think that her overall success in the competition makes her feel that she doesn't need to go big with this final performance. This finale is when Sasha can prove that she can kill a lip sync, and she's spent time figuring out how she can connect to the songs on a deeper level that makes her performance stand out.
Sasha sends her bestie home, and her momentum doesn't drop at all over the rest of the episode. When Sasha and Peppermint come out in their final looks, Sasha's is far more elaborate and conceptually sophisticated, particularly the elaborate mask that feels like another shoutout to Valentina, the major source of this season's drama. When it comes time to lip sync to Whitney Houston's "It Not Right But It's Okay," Sasha removes the part of her mask covering her mouth, which puts all the focus on her lips while also forcing her body to do a lot of emoting because much of her face is still obscured. I get the impression that Peppermint has performed this song many times in a club setting, and there's a feeling that she's going through the motions with her lip sync rather than finding new things to explore. She has the moment where she sprinkles glitter on herself, but it doesn't have the intensity of Sasha taking off her mask, which unclips in an especially dramatic way that looks fantastic on camera.
Sasha's look is more polished than what Peppermint wears, but she also finds some really fascinating beats in the song that illuminate her performance. Sasha makes clear shifts between rage, anguish, and joy, reflecting how the lyrics jump between anger at a lover's infidelity and happiness that she's freed from a relationship with someone that doesn't respect her. You get those big moments of fury, but then there will be a sly smile that indicates how elated Sasha is that she's not longer tied to someone that doesn't make her the top priority. Sasha is an excellent storyteller, and her performances in this episode make me wish that she had been forced to lip sync more in the competition because she clearly spends a lot of time breaking down the emotional beats of a song and internalizing those feelings.
Sasha Velour is crowned America's Next Drag Superstar, and while she didn't have any solo wins, she was also never in the bottom, which means she had a really good run on the show. She was always presented as the intellectual queen this season, but after reviewing eight seasons of this show (including 2 All Stars seasons), I've come to realize that intelligence is a major asset in this competition. Sasha may not have have had the most entertaining talking heads, but she always approached drag from a confident, unique conceptual point of view, and with the exception of a lackluster acting challenge, she consistently delivered on what the judges wanted to see. "Let's be inspired by all this beauty, and change the motherfucking world!" Sasha announces after being crowned, and she has a point of view that makes me confident that she'll work to spread this message as far as possible.
Stray observations
Standout looks from eliminated queens: Eureka's elephant headdress, Cynthia's fascinatingly two-dimensional wig, Farrah's metallic angel look. (I continue to be extremely proud of Farrah's performance in last week's reunion.)

Shea Coulée has three new singles out right now, and I'm really impressed by how she's capitalizing on her time on the show. "Cocky" is a club jam that will have people boom-kacking all over the place, "Ride" is a slow jam for freaky times, and "Feeling So" has her serving up Carly Rae Jepsen realness with a synth-driven drug trip. I'm excited to see her on All Stars 3.
Bobby Moynihan is great, but you know Trinity Taylor was hoping for a message from Chris Pine.

The gays have really turned on Katy Perry. No one in the bar was excited for her message to Sasha.

YOU'RE NEVER GOING TO BE BLAC CHYNA, NINA. GET OVER IT.

I would be totally into a webseries of Peppermint and Laverne Cox hanging out and talking about their past together.

I love Bob's tribal peacock gown, and she has an extremely comfortable rapport with RuPaul that makes me want to see more of them together.

"We did find Winter Green hanging out in the parking lot of the Waffle Hut in Pacoima."

"They say that if you look into a mirror and talk about sad things, I appear behind you to give you a queer history lesson."

"His creativity comes from his father. His rhythm comes from me."

Ru: "Trinity, when you started the season, your approval ratings were low. But you turned things around. How'd you do that? And speak slow, because Donald Trump is watching and he wants to know."

Ru: "It's time to hand over the crown." Bob: "Uh…uh…I'd like to keep it on, please." Ru: "What part of 'Hand over the crown' do you not understand?!"