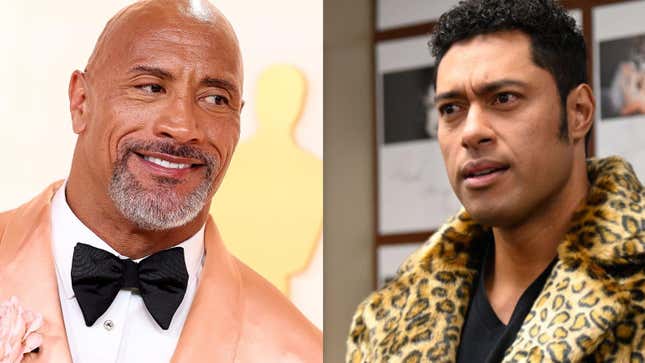 The last 12 months have been rough ones for The Rock, the brand. (That is, the public perception of Dwayne Johnson as one of the planet's biggest movie stars, a contention that's never been as clear-cut in terms of actual movie performance as it might seem, but which has persisted mostly through the man's sheer smiling charisma and instant name recognition.) The biggest blip was, obviously, the disappointing box office performance of his starring superhero vehicle Black Adam last fall, which appears to have short-circuited a genuine effort to implant himself in the very heart of Warner Bros.' flailing comic book movie universe. Now, The Big Man has taken another hit: The cancellation of the sitcom about his early life, Young Rock, at NBC.
This is per Variety, which reports that Young Rock was one of two half-hour comedies to get the axe at the network today, dying alongside the genuinely excellent Grand Crew. (Meanwhile, American Auto is still floating on the cancellation/renewal bubble; c'mon, NBC.) Young Rock starred Adrian Groulx, Bradley Constant, and Uli Latukefu as versions of Johnson at various points in his life. It also employed a completely bonkers framing device in which Johnson appeared as a slightly older version of himself, running for president in 2032, which feels like the sort of thing we'd make up to make fun of a vanity-focused concept like this. The series also starred Joseph Lee Anderson, Stacey Leilua, Ana Tuisila, and Matthew Willig, plus a large number of other performers from its various time eras—many of them playing some of the most famous wrestlers of the day.
Young Rock ultimately ran for three seasons on the network, with a steady drop in ratings each year. (The show's last season, which ended back in February, was pulling about 1.5 million viewers every week.) Its cancellation is bad news for The Rock—who recently announced that he was returning to the loving, money-making embrace of the Fast And Furious franchise—but also for us, because now our spec script where Young Rock and Young Sheldon meet, quickly becoming best friends for life after a few misunderstandings/suplexes, is probably never going to get made.