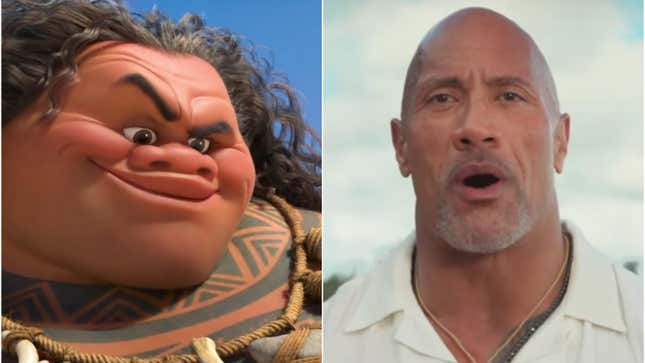 The hierarchy of power in the Disney universe is about to change. Having failed at his semi-hostile takeover of DC Studios, The Rock seems to be turning his ambitions back to the House of Mouse. There, he already has a canonized animated adventure and a successful live-action romp under his belt; why not marry the two and make a live-action Moana?
"Doctor Strange" stars Benedict Wong and Rachel McAdams on navigating the MCU
Maybe because Disney's soulless live-action remakes have largely brought nothing of value to the world, but neither Disney nor Dwayne "The Rock" Johnson has ever been one to leave money on the table. Presumably, that's why Johnson has signed on to not only executive produce but also star in this adaptation of a film in which he's already starred (as the demigod Maui). Auli'i Cravalho, the voice of the animated Moana, is also on board as an executive producer, according to Deadline.
To dispense with snark momentarily, both actors have highlighted the importance of celebrating Polynesian culture making the film. "This story is my culture, and this story is emblematic of our people's grace and warrior strength. I wear this culture proudly on my skin and in my soul, and this once-in-a-lifetime opportunity to reunite with Maui, inspired by the mana and spirit of my late grandfather, High Chief Peter Maivia, is one that runs very deep for me," Johnson said in a statement (per Deadline). Cravalho, meanwhile, shared that the character "has had such a profound impact on how we think of Disney princesses. Moana's strength and perseverance are inspiring—to audiences around the world, to me and to everyone who helped bring her to life. I'm looking forward to sharing her story in a whole new way."
Just how new a remake of a film released a scant seven years ago featuring at least some of the same cast can be remains to be seen. Per Deadline, even the original screenwriter Jared Bush (Encanto) is on board, along with "Samoan industry pro" Dana Ledoux Miller. But as Johnson says in the video announcement, the project is still in the early stages of development.
In the past, one could at least say that the studio's live-action remakes were refreshing material that was decades old; now an animated classic barely even has time to establish itself as a classic before it's refitted for "real" life. At least it can be said that the latest live actions are diversifying Disney's historically-white slate. The upcoming Lilo & Stitch (the other 21st-century remake) just cast a young Hawaiian actor in the titular role. Then there's The Little Mermaid, which reimagines the 1989 animated tale with a Black actor as Ariel.