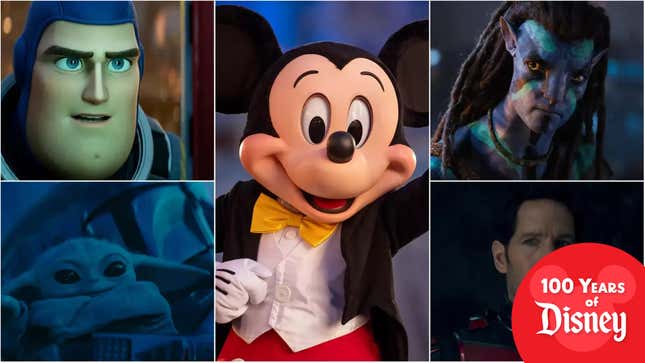 As Disney celebrates its 100th anniversary this year, The A.V. Club marks the occasion with a series of lists, essays, and more.
With Avatar: The Way Of Water shooting up the all-time global box office list, The Walt Disney Co. now either owns or holds a stake in nine of the 10 biggest movies of all time, thanks to the company's very expensive purchase of competitor 21st Century Fox's movie and TV assets in 2019. But that's just one of many ways that Disney's acquisition of Fox remade the world's biggest entertainment company and altered the landscape for Hollywood. The same deal added Hulu to Disney's own dedicated streaming service, and combined networks like FX and its offshoots to Disney's TV properties, which already included ABC and the explicitly Disney-branded TV networks.

In other words, Disney may not literally own everything, but it owns enough that it can be hard to tell the difference. And yet, as horrifying as it is to imagine a future where Disney fully takes over and starts appointing cybernetic world leaders from its Hall Of Presidents attraction, the massive company's control over much of pop culture has produced some legitimately interesting works of art… inevitably followed by a fallow period where everything becomes dull and routine. The problem isn't necessarily that Disney buys up everything, it's that Disney buys up everything, bleeds it dry, and then finds a new thing that it can aggressively chew the life out of before going out to find something else that will (once again) fail to satiate the bottomless hunger of a big company and its shareholders.
The current pattern goes back at least to the early 2000s, shortly after Disney CEO Bob Iger took over (for the first time, not the second time). At that point, Disney's in-house animation was in a slump, releasing forgettable films like Brother Bear, Home On The Range, Chicken Little, and Meet The Robinsons. Meanwhile, Disney had a distribution deal with Pixar, which was running at full speed and showed no signs of slowing down—in that same window, it released Finding Nemo, The Incredibles, and Cars (which made a ton of money, regardless of how critics felt about it).
Iger moved to fully acquire Pixar, essentially making it so that it didn't matter if Disney's own animated projects were stinkers because it could just lean on the reliable hit-makers at Pixar for more winners. That's largely how things worked, with Pixar getting all of the money and attention it needed, until Disney Animation Studios started to rediscover its footing on movies like Tangled, Wreck-It Ralph, and, of course, Frozen. Once the pandemic took hold, it became pretty clear which branch Disney saw more potential in: Three of Pixar's four movies since March 2020 were bumped straight to Disney+, while all of Disney Animation's films released in that same time period got theatrical releases.
Mining Marvel for all it's worth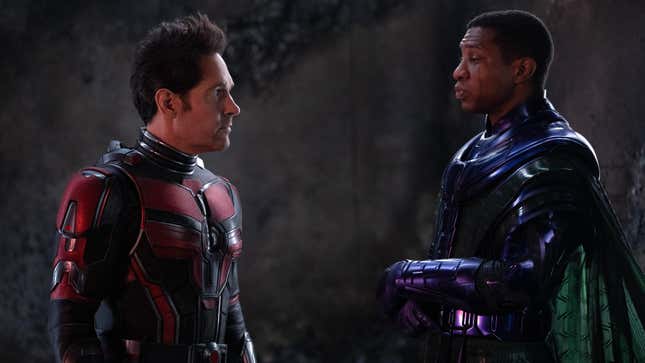 A similar pattern can be seen with Marvel, which Iger's Disney bought in 2009. Marvel had just begun making movies about the handful of characters it still had the adaptation rights to after selling off the Spider-Man and X-Men movie rights during bankruptcy woes, with mastermind producer Kevin Feige laying some vague groundwork for a vision he had of an entire interconnected cinematic universe. The first Marvel Studios movie solely distributed by Disney was the first indication that this absurd plan might actually work: The Avengers.

With Disney's money and heavy hand at his disposal, Feige was able to construct a film franchise that operated exactly how he wanted it to. There were some issues along the way with filmmakers who didn't always want to be part of that grand design, but by the time Avengers: Endgame came out and became one of the most successful movies of all time (in terms of both money and the way it managed to string together so many disparate threads from so many other movies), it was clear that he had really pulled it off.
But it's not like Disney ever would've or could've stopped there, and the Marvel Cinematic Universe has now become a victim of its own success. Feige proved that he could do it, that he could release 20 movies that all built up to this one thing, but that means that now every movie has to also justify its existence as part of some grand plan. As indicated by the fact that even Ant-Man And The Wasp: Quantumania is apparently going to have hugely important stakes for the MCU, it's clear that nobody can just make a Marvel movie anymore (if they ever could). It always has to be the next step toward the next thing.
Disney took over with the MCU, and now it's struggling to maintain that takeover with movies that aren't quite the guaranteed hits they used to be. That also ties in with Disney's decision to buy up the Fox assets, which gave Marvel a number of "break glass in case of emergency" options in the form of the X-Men and The Fantastic Four. Even the MCU must continuously expand and devour other things in hopes of staving off irrelevance.
Tapping into the Star Wars galaxy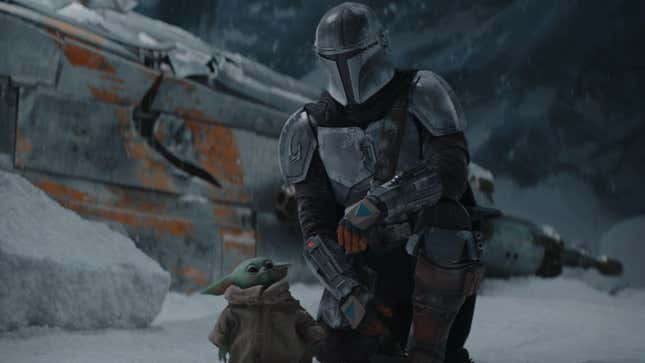 Then there's Star Wars, which Disney acquired as a pre-built film franchise when Iger bought Lucasfilm in 2012—just as the MCU was transitioning from a series of loosely interconnected stories to a genre unto itself. The problem with Star Wars wasn't that Disney squeezed it too hard until nothing else could be squeezed out, it's that Disney invested so much money into it and put so much emphasis on the power of the brand that it became too toxic for anything to be squeezed out.
J.J. Abrams' The Force Awakens was as safe as anything could be—a love letter to Star Wars itself, much as George Lucas' original films were full of nods to samurai films, war stories, and pulp sci-fi sagas—and it was a huge hit. So huge, in fact, that Disney fell into a trap where it decided that it needed to have a whole new Star Wars movie every year, which made tie-ins like Rogue One and Solo less special and more predictable than they might've been otherwise (to say nothing about the extensive behind-the-scenes meddling that happened on those movies).
But worse than that was the weird backlash to Rian Johnson's The Last Jedi, a brilliant and beautiful film that dared to question what Star Wars was really about and who it was really for. Some fans had legitimate issues with what the movie was saying and doing, but they were largely drowned out by the wholly illegitimate issues raised by very vocal racists and misogynists. Lucasfilm boss Kathleen Kennedy maintains her support for Johnson even to this day, but when J.J. Abrams returned to finish out Disney's Sequel Trilogy with The Rise Of Skywalker—a film that doesn't dare question or challenge anything and is the most lazy by-the-numbers slog of the entire franchise—it was clear that the backlash had scared Disney.
After that, Star Wars movies that were in the works were canned, and the brand shifted its focus away from theaters to the more low-stakes shores of Disney+. Star Wars' first live-action TV experiment, The Mandalorian, was a hit, and Lucasfilm has wisely used the streaming platform as a way to work out different kinds of Star Wars ideas that don't necessarily have to be The Next Big Thing the way each movie did. The Book Of Boba Fett was awful, and Obi-Wan Kenobi was a waste of time, but Andor might just be one of the all-time great stories ever set in that universe—and the reason it worked was because it had some distance from the core of the Disney machine.
Something from the old Fox library will probably be the next victim of Disney's hunger. It'll get a huge backing that will pay off, and then it will be swept away for the next thing. Maybe it will be Aliens, maybe it'll be The Simpsons. Hell, maybe it'll be Avatar if Disney decides to piss off James Cameron and start throwing its weight around on that franchise now that it's in control. This is all ultimately bad news for Disney, this being a capitalist society where forward momentum is the only thing that matters. But the good news for us is that we'll probably still occasionally get some cool movies and TV shows out of these increasingly worse deals. Then those cool movies and TV shows will be dumped into a furnace to power whatever the next thing is.