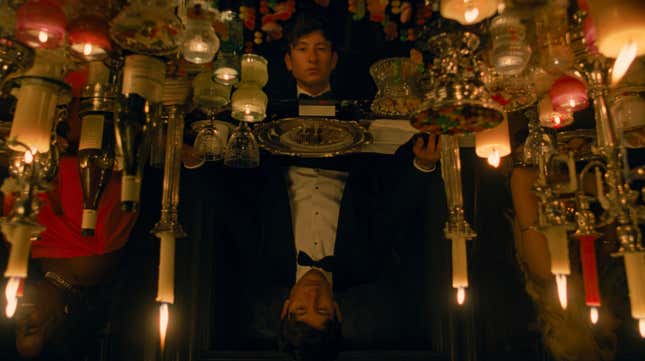 There has always been a potent societal thirst for stories of supposedly "normal" people infiltrating the lavish, revelrous lives of the stratospherically rich and famous. Even more so if, once accessed, that formerly inaccessible world reveals itself to be dark, dangerous, sexy, mysterious, and/or haunted. The same DNA that makes The Great Gatsby, The Talented Mr. Ripley, Brideshead Revisited, and many more so infinitely captivating is stamped all over Emerald Fennell's upcoming feature, Saltburn, which, as the first teaser unfolds, reveals itself to be a veritable bacchanal of beautiful imagery, beautiful framing, and even more beautiful people.

The Banshees of Inisherin's Barry Keoghan snags his first leading role in Fennell's sophomore directorial effort (after 2020's Promising Young Woman) as Oliver Quick, an Oxford College student struggling to find his place amongst the extremely wealthy student body. "Nice tux. It's a rental, right?" a classmate asks dismissively in the teaser's opening, a none-too-subtle tonal hint about the rest of the proceedings.
"The Amazing Race" host Phil Keoghan on auditions, and being prepared
Soon, and very clearly at his own peril, Oliver falls in with the captivating and aristocratic Felix Catton (Jacob Elordi, sporting a pretty okay British accent) who invites him to his family's massive estate, Saltburn, for the summer. While we here at The A.V. Club have seen enough movies to know that a house with a name almost always spells trouble, Oliver clearly hasn't learned this lesson because he goes ahead and accepts Felix's offer.
Once there, Oliver meets the rest of Felix's circle, which includes some more familiar faces in Rosamund Pike, Richard E. Grant, Paul Rhys, Alison Oliver, Archie Madekwe, and Promising Young Woman star Carey Mulligan.
"I have a complete and utter horror of ugliness ever since I was very young," says Pike's character, a line which perfectly speaks to the overall vibe of the film. While the house and its residents are undeniably beautiful, something very dark has clearly made a home here as well. All Oliver—and hopefully the story—has to do is try not to get lost.