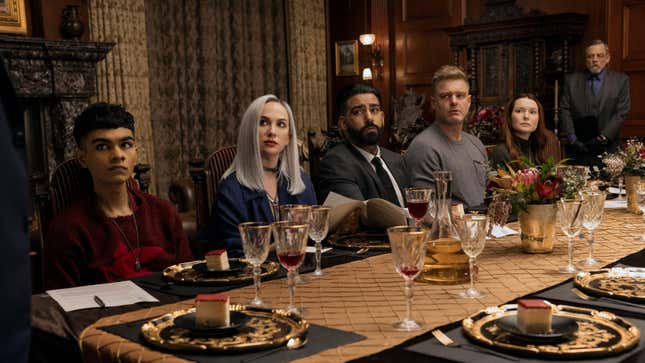 For years, writer/director Mike Flanagan has brought an annual scary series to Netflix—beginning with The Haunting Of Hill House and going through The Haunting Of Bly Manor, Midnight Mass, and last year's The Midnight Club—but back in December we heard that Flanagan would not be renewing his development deal with Netflix and that he and producing partner Trevor Macy would be switching to Prime Video.
Danny and Lucy Devito on Little Demon, The Penguin, and more
But, for fans of this tradition, Flanagan has one last Netflix miniseries on the way to make your spooky season a little spookier: The Fall Of The House Of Usher. Loosely (looooosely) based on the Edgar Allan Poe story of the same name, the series is about the evil CEO of a pharmaceutical company facing a reckoning for the dark deeds committed by him and his family, and it just got its first trailer:
In case the "nevermore" bit didn't tip you off, the series is doing a whole Edgar Allan Poe thing, not just the story it takes its name from, but it remains to be seen if this is some kind of elaborate Poe mash-up or if those things will just be Easter eggs for the true Raven-heads out there. There are also Succession vibes, as if that show invented the trope of the bad rich family where everyone is bad and rich, but the Poe stuff seems like a more explicit and purposeful ad (there's a "nevermore" bit and not an "eldest boy" bit).
The Fall Of The House Of Usher is coming to Netflix on October 12, and it stars Carla Gugino, Bruce Greenwood, Mary McDonnell, Carl Lumbly, Mark Hamill, Rahul Kohli, Kate Siegel, Samantha Sloyan, and T'Nia Miller. And with this done, Flanagan is hopefully hard at work on his Dark Tower adaptation.