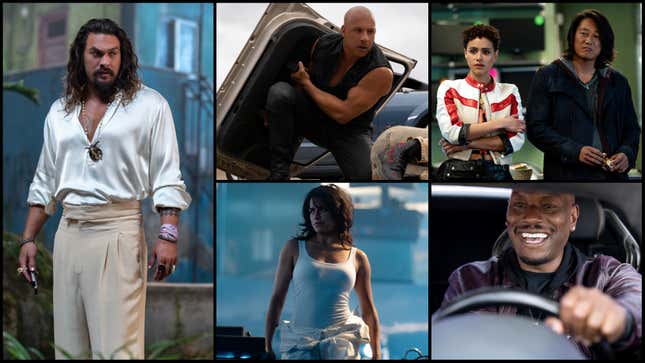 No one commits more fully to the old adage of "ride or die" than the heroes of the Fast And The Furious franchise. Some take considerable, brain-wrinkling liberties with the latter, but all embrace and often push the limits of the former.
That's the tone Vin Diesel's Dom Toretto has set for more than 20 years on the big screen. He and his intrepid "family" of action heroes have evolved from L.A.-bound street racers to an international squad of crime fighting car and explosion enthusiasts—think Mission: Impossible — Automotive Ops. They are a kick-punching, Corona-drinking force with seemingly zero income and yet endless resources when it comes to their vehicular adventures.
Fast X, the 10th installment of the Fast And The Furious series (not counting the Hobbs & Shaw spin-off), Tokyo drifts into theaters May 19. So it's the perfect time to catch up with Dom and his crew—which includes legacy allies, a brand new villain, and at least one frenemy. Here's your handy guide to who's who in Fast X and what the crew has been up to since we last saw them in Fast 9.