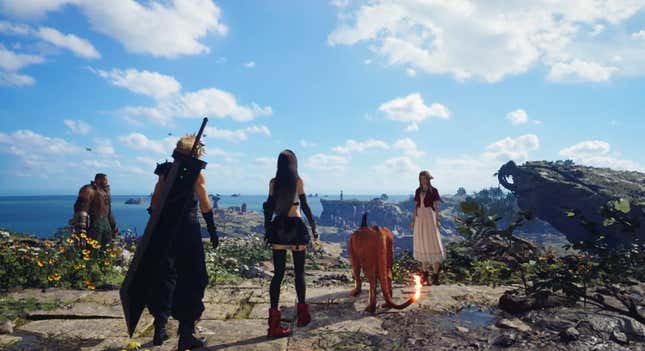 After a year-plus of speculation, Square-Enix has finally set a formal release window for Final Fantasy VII Rebirth, the sequel to its 2021 hit Final Fantasy VII Remake. After floating along for a bit with a hypothetical "Winter?" release timing, the gaming company has now confirmed that the game will arrive some time in "early 2024," shipping for the PlayStation 5 on what are presumably going to be two very jam-packed discs.
And if the idea of a sequel to a remake is kind of confusing, that's just because Final Fantasy VII Remake is almost deliberately, perversely confusing, as a whole. For one thing, the 2021 game only recreated the first 10 or so hours of the 1997 original it purported to be a remake of, cutting off shortly after players left the high-tech city of Midgar. And that's to say nothing of the fact—alluded to in a new trailer for Rebirth today—that Remake slowly reveals that, title aside, it's not a strict remake of the original game, and is instead a sort of bizarre meta-story wherein the characters are battling with or against forces trying to stop the original game's plot from playing out.
How director Joe Dante would have made "Jurassic Park"
All that being said, Rebirth certainly looks pretty, with the same fast-moving combat system that powered the first (?) game, and with the addition of new (?) party members Red XIII and Yuffie. Plus, we can't help but get a certain nostalgic thrill at the whole "two discs" thing; video games haven't shipped on multiple discs in more than a decade, as storage solutions got better and better; Square-Enix is practically bragging when they revealed the new game would be arriving on multiple discs when it hits the PlayStation 5 early next year.