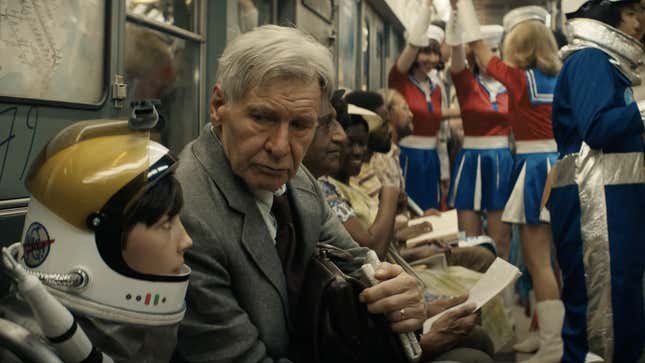 The full-length trailer for Indiana Jones And The Dial of Destiny is here, and it's got all of the franchise's classic elements: Nazis, giant rolling boulders, horseback riding, explosions, John Williams' iconic score, and a trusty whip. Plus, a de-aged Harrison Ford. The professor may be retiring, but he's going out with a bang.
Harrison Ford doesn't think de-aging is weird, so shut up
The fifth entry into the Indiana Jones archive revolves around "a dial that could change the course of history." Ford's Indy found it on a train long ago, but it's since faded into obscurity. Now, he's seeking it out, but he's not the only one.
The trailer offers a larger look at Phoebe-Waller Bridge's role in the long-running franchise, as she takes on the role of Helena, Jones' goddaughter with her own ideas for the sacred dial. Her father, Basil (Toby Jones), previously sought out the dial for decades, ultimately going insane in his endeavor. Helena's willing to do anything to retrieve the mystical dial, even if it means screwing over her godfather.
"They haven't seen each other for a very long time and in some ways she's the worst thing that could happen to him at this time in his life, but also the best thing," Waller-Bridge said last night on the Star Wars Celebration stage (per Entertainment Weekly), where the trailer first debuted.
Oh, and Mads Mikkelsen's Jürgen Voller? In classic Indiana Jones form, he's looking to correct "Hitler's mistakes."
Antonio Banderas, John Rhys-Davies, Shaunette Renée Wilson, Thomas Kretschmann, Boyd Holbrook, Olivier Richters and Ethann Isidore fill out the cast for Dial Of Destiny—the first Indiana Jones movie not helmed by director Steven Spielberg.
Ford, now 80 years old, swears this is his last time donning Jones' staple fedora. James Mangold, who directed the fifth installment, previously said he wanted to follow Ford's lead when approaching the action film.
"I wanted to follow Harrison's own lead and simply deal with it straight on," Mangold told The Hollywood Reporter. "It's not just a movie about a hero in his twilight years who is called back into action. It's more than just that his bones might ache, it's that his soul might ache, or that some of his optimism or sense fitting into the world might have evaporated. The mistake you can make in movies—and we've all seen movies like this—is where someone is of a ripe age, but the entire movie is continuing this charade along with them that they're not that old."
Indiana Jones And The Dial Of Destiny arrives in theaters on June 30 after premiering next month at Cannes.