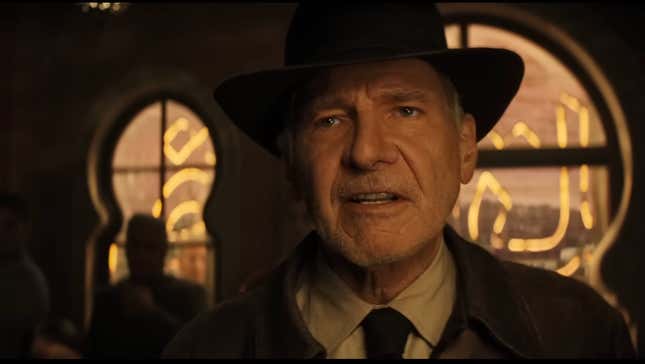 Update: Disney has confirmed that Indiana Jones And The Dial Of Destiny will debut at Cannes on Thursday, May 18. In a press release, director James Mangold said, "In 1995, I was honored to come to Cannes with my first film as part of Director's Fortnite. 28 years later, I am proud to return with a slightly larger spectacle. My legendary collaborators and I are very excited to share a brand new and final Indiana Jones adventure with you."
Robert De Niro to double our pleasure in upcoming film
The first audience to witness Indiana Jones And The Dial Of Destiny, the franchise's first film since 2008, will likely be seated at the Cannes Film Festival in France later this year. Variety reports that Indiana Jones 5 is planning a splashy launch on day 2 of the film festival, which will take place from May 16 to May 27. If 2022's blockbuster Top Gun: Maverick can premiere at Cannes, then why should Indy be left behind Captain Pete Mitchell?
Directed by Mangold, the film stars a de-aged Harrison Ford, who reprises his iconic role as globe-trotting archaeologist Indiana Jones after 15 years. Indiana Jones 5 features no involvement from Paramount Pictures, director Steven Spielberg, and writer George Lucas. You can thank corporate shenanigans for that because Indy is now part of Lucasfilm, who own The Walt Disney Company since 2012.
Indiana Jones And The Dial Of Destiny will see the return of John Rhys-Davies as Indiana's old friend, Sallah. Franchise newcomers Phoebe Waller-Bridge, Mads Mikkelsen, Toby Jones, Antonio Banderas, Shaunette Renée Wilson, and Boyd Holbrook. In his fifth and final (if you believe it) appearance, Ford's Indiana Jones is living in 1969 as the space race is in full swing. He's not a fan of the U.S. government recruiting former Nazis to defeat the Soviet Union—as always, we're team Indy. He teams up with his goddaughter, Helena Shaw (Waller-Bridge) to defeat ex-Nazi Jürgen Voller (Mikkelsen), who wants to use the moon landing program for his own benefit.
If the film premieres at Cannes, it will join a long-running list of massive hits and award favorites, including Once Upon A Time In Hollywood, Elvis, Parasite, Zodiac, going back to Pulp Fiction, Apocalypse Now, and Taxi Driver.
Ford recently starred in Apple TV+'s Shrinking and Paramount's Yellowstone spin-off, 1923. No one can escape the small screen anymore, huh? His co-star should know. Best known for Fleabag, Waller-Bridge has since helmed Killing Eve and Run. She's also creating a Tomb Raider series for Prime Video.

Other movies expected to premiere at Cannes this year are Martin Scorsese's Killers of the Flower Moon (starring Leonardo DiCaprio and Brendan Fraser) and Wes Anderson's Asteroid City (with Tom Hanks and Margot Robbie). The official selections will be confirmed by mid-April.
After its Cannes launch in May, Indiana Jones And The Dial Of Destiny will have its theatrical release on June 30, 2023.