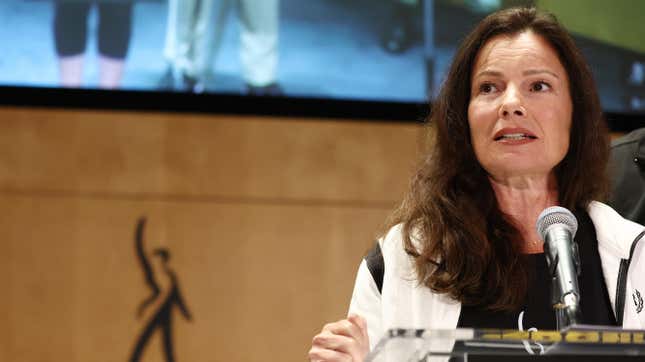 During the press conference this afternoon where SAG-AFTRA president Fran Drescher and chief negotiator Duncan Crabtree-Ireland announced that their union will be going on strike tonight at midnight, the duo took a moment to address the backlash that Drescher received earlier this week after Kim Kardashian—who has continued to work on Ryan Murphy's American Horror Story despite the ongoing WGA strike—posted a photo of the two of them together at an event in Italy.
A lot of people on social media criticized Drescher for, at the very least, the terrible optics of apparently attending a big party in Italy while many of SAG-AFTRA's members were preparing for the strike or engaging in ultimately fruitless last-minute negotiations, but Crabtree-Ireland wasn't having any of that. A member of the press asked about the backlash, and he stepped in ahead of Drescher to point out that she was there "working" (emphasis his), because that's what actors do, adding that she was contracted to appear at the event as a brand ambassador for a fashion company, and while there she was still working with the bargaining committee and joining meetings on Zoom.
Drescher added that she had only met Kardashian "seconds before the picture was taken" and that she was there specifically for work, not for fun. She said she was working round the clock in "three different time zones" for the event and regularly checked in with everyone working to get a deal with the AMPTP—a comment that was met with raised fists and claps from the SAG-AFTRA members in attendance, who obviously supported her on that point. There was also some suggestion, primarily from Crabtree-Ireland, that the backlash flames were fanned by the AMPTP to try and generate discord among SAG-AFTRA members and try to turn them against Drescher at a very crucial moment.
He said it was "outrageous" that "they" would "cynically" try to turn people against her, though the original photo was shared on Instagram by Kardashian herself (not that that doesn't mean it wasn't orchestrated by the AMPTP) and did seemingly spread naturally on Twitter after that (not that that couldn't have also been orchestrated by the AMPTP).