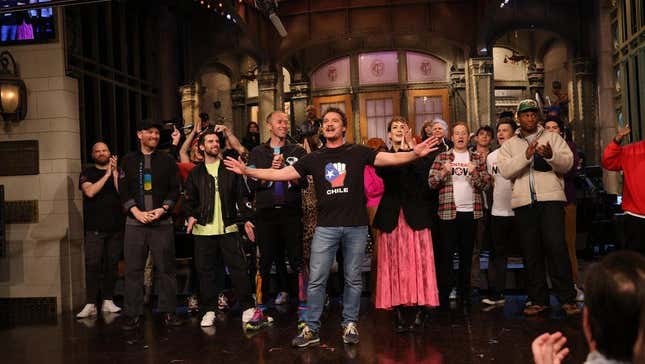 For the first time, Saturday Night Live's digital shorts, commercial parodies, and other pieces of pre-shot ephemera will be edited under a union contract. Earlier today, Deadline reported that NBC and the postproduction union had reached a deal and ratified a three-year contract that will avert the April 1 strike. The agreement comes after months of negotiations since the postproduction union was formed in October.

Arden Cho on "Partner Track" and Olivia Benson
"The solidarity and bravery of this crew are just so impressive," National Executive Director of the Editors Guild Cathy Repola said. "They fought not just to improve their own working lives; they have also set a standard that will benefit all those who follow in their footsteps at this TV comedy institution."
"It was an honor to work with them on reaching this significant agreement."
The strike was technically averted last week when the union made a tentative deal with NBC. However, the contract's ratification ensures the staff up to 60% raises over three years, healthcare benefits, and provisions for the long hours the job requires.

"We are extremely proud of our first contract at SNL," editor Paul De Gesso told The A.V. Club. "We think it is a strong starting contract, and this whole process has shown us the immense power of standing together as a unit."
It's worth repeating that pre-taped sketches are an essential part of SNL's production. Since the first season, when Albert Brooks began sending his shorts from Los Angeles, the show has built its brand on slickly and quickly produced short films that live on after the cast waves goodbye. These segments create viral opportunities for the series, generating millions of views and advertising to new, old, and lapsed viewers. It also aided breakout stars, such as The Lonely Island, TV Funhouse, Good Neighbor, and Please Don't Destroy, to distinguish themselves from the rest of the cast.

With the strike cleared, the show's April 1 episode can go on as scheduled, with host Quinta Brunson appearing in pre-taped sketches without crossing the picket line.