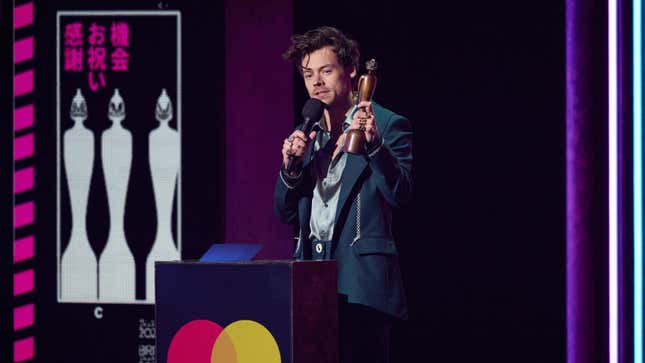 Oh, what could have been. When news broke that internet heartthrob Harry Styles was possibly cast beside Halle Bailey in the role of dreamy, floppy-haired Prince Eric in Disney's live-action remake of The Little Mermaid back in 2019, fans of the singer left Twitter in shambles for days on end. Unfortunately for them, the casting announcement was a pipedream, with the role eventually going to actor Jonah Hauer-King instead and Styles taking part in 2022's wildest film press tour for Don't Worry Darling. Though, it seems there was a tad bit of truth to those rumors, as director Rob Marshall has revealed in an interview with Entertainment Weekly that he did indeed meet with the My Policeman star for the film.

How a drag queen inspired Melissa McCarthy's Ursula
"We met with him. He was lovely. What a wonderful guy," Marshall said about the "As It Was" singer. "But at the end of the day, he really felt like he wanted to go off and do the movies that he ended up doing, which were sort of darker."
Those "darker" movies turned out to be Olivia Wilde's psychological thriller Don't Worry Darling and the drama My Policeman, which he stars in alongside Emma Corrin (The Crown). Choosing those two films instead of the one with a singing crab in it makes a lot of sense for Styles' career trajectory, even if his acting in both films turned out to be a bit... underwhelming. Yet, while Styles could have definitely pulled off Prince Eric's billowy, white sailor's shirt, Marshall seemed to understand the Fine Line musician's decision to go in a different direction.
"For a lot of young musical people like Harry, you're trying to carve your way and you don't wanna be seen as a singer, necessarily," said the Chicago director. "That's why he was really looking to do something not in the musical genre, to really stretch himself. It was really a fun idea to play with, but in the end, I always think things happen for a reason. I'm so happy to have two young, new people in the film."
Although Styles' may have broken a few hearts in passing on The Little Mermaid, we do have to thank his decision as we might not have gotten the truly bonkers #SpitGate for all of Twitter to enjoy.