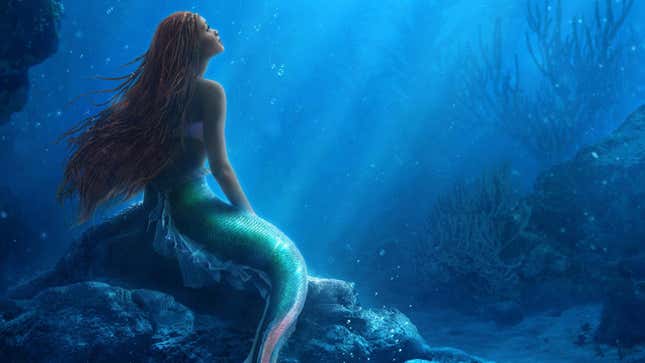 When you think "cinematic excellence," the first thing that comes to mind is Disney's live action remakes, right? Okay, the new movies may be nowhere near as beloved as the original versions, but they do tend to be the subject of intense discourse, which means The Little Mermaid trailer is a perfect fit for the Oscars broadcast. And so, in between Academy Awards, the House Of Mouse would like to cordially invite you "Under The Sea."

The A.V. Club's weekly film round up
The trailer offers the first real look at some of the beloved characters, with Halle Bailey's Ariel of course getting a big showcase (she does a couple of iconic moves from the original and gets to sing). Ariel aside, Javier Bardem's King Triton getes the biggest spotlight and Melissa McCarthy's Ursula gets a little cameo.Of course, the actual movie will feature all of your favorites, like Flounder (voiced by Jacob Tremblay), Scuttle (voiced by Akwafina), and Sebastian (voiced by Daveed Diggs), King Triton (Javier Bardem).
The Little Mermaid has been the subject of controversy since the casting stages, with an unfortunately unsurprising backlash that a Black actor was cast as a character depicted as white and red-headed as a cartoon. Less racist was the wave of discourse that occurred in the wake of the film's teaser trailers, which fans bemoaned for its washed-out color palettes and dim underwater lighting.
The original animated classic is one of the most beloved entries into Disney Princess canon, a critical and commercial success that garnered two Academy Awards for Best Original Score and Best Original Song (both "Kiss The Girl" and "Under The Sea" were nominated, with the latter taking home the trophy).
Disney is trying to recapture some of that success by handing the reins to movie musical aficionado Rob Marshall and bringing back the original maestro, Alan Menken. Lin-Manuel Miranda has also been brought on board to contribute some new lyrics alongside the classic tunes by Menken and Howard Ashman. Could it be the live action remake to rise above its source material? Hard to imagine, but the film will surely make a splash one way or another.