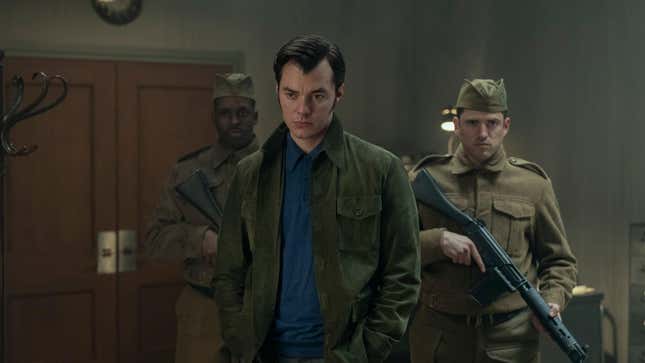 Dooming millions, planet-wide, to toil in darkness without the knowledge of the critical backstory of the man who makes Bruce Wayne's bed and cooks his eggs, HBO Max announced tonight that it was canceling Pennyworth—or, as it's known to the masses by its immortal subtitle, The Origin Of Batman's Butler.
George Clooney's Batman costume goes up for auction
This is per Deadline, which reports that the show's third season, which aired last November, will be its last, ending a three-year journey explaining not just how Alfred Pennyworth eventually came to spend his days making funny little quips while while his son-boss Bruce nocturnally punched clowns, but also why. The series starred Jack Bannon as Pennyworth himself, a former special forces soldier who finds himself involved with American socialite (and CIA agent) Thomas Wayne, played by Ben Aldridge. The pair (along with Wayne's eventual wife Martha, played by Emma Paetz) get up to increasingly ludicrous shenanigans in 1960s London, in a setting that was part period spy drama, part V For Vendetta riff, and partly the setup for a comic book universe where an ice man and a plant woman might regularly try to murder hundreds of thousands of people. (It was also technically a prequel to Gotham. Busy show!)
Pennyworth originally launched on Epix, where it ran for two seasons before it got moved to HBO Max. (It also got a shiny new subtitle along with the move to help explain its entire premise; you may have heard about it.) The show is one of several live-action DC Comics shows to get the axe at Warner Bros. Discovery in recent weeks: Doom Patrol and Titans all similarly got tossed off the schedule recently, presumably to make way for a new and ambitious slate of projects coming from the recently revamped DC Films.