HBO has just revealed the new streaming stuff that will be available on its HBO Go and HBO Now services in August, but before we get to that, apparently a couple of new July things managed to sneak in without anybody noticing. One is the Spanish-language talk show Chumel Con Chumel Torres, which will premiere on July 25, and the other is the animated Spawn series from the '90s. That one's available right now, so put on your absurdly long cape and go to your preferred HBO streaming destination if you're eager to see Tod MacFarlane's iconic antihero whip some chains at evil dudes.
As for what's coming in August, HBO Now is getting a nice boost of prestige in the form of Brooklyn, The Danish Girl, and The Theory Of Everything. You'll also be able to check out The Peanuts Movie, Youth, and put on a whole Al Pacino party with Scarface, Carlito's Way, Dog Day Afternoon, and The Scent Of A Woman. Hoo-ah!
August will also be your last chance to stream Barbershop, Barbershop 2, Tropic Thunder, Halloween H20, and Mad Max: Fury Road—which you definitely should've seen by now.
The full list of what's coming to and leaving HBO Go/Now in August is below. HBO originals are in bold.
Coming August 1

Youth
The Aviator
Brown Sugar
The Bucket List
Capote
Carlito's Way
Carlito's Way: Rise to Power
Charlie Wilson's War
The Chase
Dog Day Afternoon
Hollywoodland
Hotel For Dogs
Life Or Something Like It
No Reservations
One Hour Photo
Say Anything…
Scarface (1983)
Scent Of AWoman
Simon Birch
Summer Catch
The Theory Of Everything
Meet the Donors
G/O Media may get a commission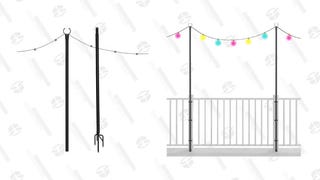 Up To 49% Off
Holiday Styling String Light Poles
Coming August 5
Dios, Inc. — Season 1 Finale
Coming August 6
The Peanuts Movie
Coming August 8
Hitchcock/Truffaut
Coming August 10
Hard Knocks: Training Camp With The LA Rams
Coming August 13
Brooklyn
Coming August 20
Point Break (2015)
Coming August 25
Seventh Son
Coming August 26
The Danish Girl
Coming August 27
In the Heart Of The Sea
Coming August 28
The Night Of—Series Finale
Leaving August 15
Annabelle
Leaving August 31
Alpha Dog
Barbershop
Barbershop 2: Back In Business
Beauty Shop
Far From The Madding Crowd,
Halloween H20: Twenty Years Later
Inspector Gadget
I Origins
I Think I Love My Wife
Love & Basketball
Mad Max: Fury Road
Saving Silverman
The Second Best Exotic Marigold Hotel
Shrek The Third
Snatch
Spaceballs
Tropic Thunder
True Story
Unfriended
The Uninvited
A Walk Among The Tombstones