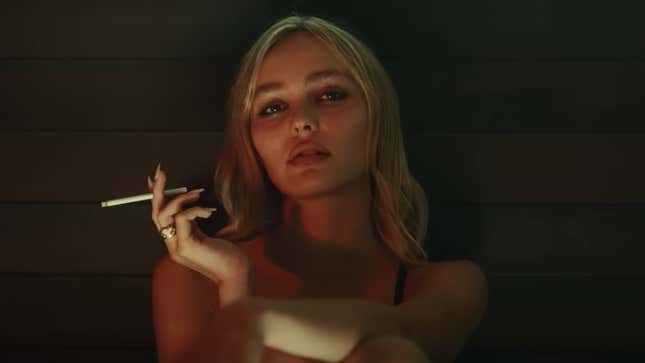 Well, somewhat unsurprisingly, Sam Levinson's next HBO series has devolved in "shitshow" featuring "torture porn" and copious amounts of female objectification. In a new report from Rolling Stone, The Idol, which was originally pitched as a gritty drama satirizing Hollywood exploitation and cultism, has apparently gone on to embody the exact kind of culture it initially pit itself against under the care of the Euphoria creator.
HBO really doesn't want to talk about J.K. Rowling
Interviews from 13 cast and crew members paint a story of financial carelessness, chaos on set, and creepy male behavior plaguing the production. The show, starring Lily-Rose Depp, Abel Tesfaye, a.k.a. The Weeknd, Dan Levy, Hari Nef, Troye Sivan, Rachel Sennott, Hank Azaria, and K-pop star Jennie Kim, seems to have even more problems than originally thought, costing HBO millions in the process.
Issues emerged early on the set of The Idol, as many felt director Amy Seimetz was set up to fail as she was given half-finished scripts, a tight filming schedule, and Euphoria-level expectations fit with music videos, expensive mansions, nightclubs, and stadiums.
"Amy was doing her best in an impossible situation, but she was going to lose this no matter what," one production member says. "Honestly, I think HBO handed her a shit stack."
Still, Seimetz worked with what she was given, completing 80 percent of the first season. However, in April of 2022, it was announced that Seimetz would leave the project, and Levinson would take over, starting from scratch.
"I went into The Idol thinking that this might be an interesting collaboration, but I left it pretty convinced that [Levinson] is not quite collaborative," one source says. "It's really frustrating seeing Amy doing her damn best to turn around some kind of product that she can be somewhat proud of to HBO… and then [for HBO] to turn around and have Sam get essentially a blank check to turn it into 'Euphoria Season Three with pop stars' is extremely, extremely frustrating."
Reports on Seimetz's departure illuminate a rather unsavory side of The Weeknd. Tesfaye, who's attached to The Idol as its star, co-creator, and "co-writer," reportedly felt the show leaned too much into the "female perspective," and thought Seimetz was focusing too much on Depp's character. Once Seimetz left the show, Levinson apparently had no problem tossing out its "feminist lens" and giving Tesfaye all the screen time he desired.
"It was like the Weeknd wanted one show that was all about him—Sam was on board with that," a source tells Rolling Stone.
Once Levinson assumed complete control over the project, cast and crew members say the shooting schedule and script process never got any smoother. Production schedules and budgets ballooned, with most of the cast and crew left in the dark on day-to-day operations. Daily script revisions and reshoots made room for Levinson to "dramatically [ramp] up the explicit content." Allegedly, scripts stopped going upstairs to HBO and department heads for approval.
Some of the script iterations from Levinson contained "contained disturbing sexual and physically violent" scenes, including one where Depp's character begs to be raped by Tesfaye's Tedros after she's tasked with holding an egg in her genitals. In another, she's beaten by the cult leader, who is aroused by the abuse. While interviewees say these scenes never went to film, they also are unsure of what will end up in the final cut due to the constant revisions.
"It was like any rape fantasy that any toxic man would have in the show—and then the woman comes back for more because it makes her music better," one production member says of Levinson's revisions.
It's not surprising that the man who's made his millions off of a show featuring teenagers experiencing cyclical substance and relational abuse, has a grim and frankly perverse approach to telling the story of an exploited young woman in the industry.
"It was a show about a woman who was finding herself sexually, turned into a show about a man who gets to abuse this woman and she loves it," one source says.
Levinson's affinity for nude scenes has been well-documented over the course of Euphoria's production, with Sydney Sweeney admitting that she's had to push back against him on unnecessary nudity, but says the director always heeded her calls. Similar to Euphoria, storytelling on The Idol has reportedly gone by the wayside in favor of sleek visuals and shock factor.
"It's almost such an extreme that it's like, there is no message," one crew member says of The Idol. "There is no point. They're just trying to see how much of a reaction they can get."
On the other side, Depp calls Levinson "the best director" she's ever worked with. In a statement to Rolling Stone, HBO says, "the creative team has been committed to creating a safe, collaborative, and mutually respectful working environment, and last year, the team made creative changes they felt were in the best interest of both the production and the cast and crew."
There's the ghastly nature of the storyline in The Idol, and then there are the grim financial movements happening behind the scenes. As Warner Bros. cries "tax write-offs" and the need to cut down costs, they've seemingly given Levinson a blank check. While Seimetz was given a small budget relative to the expectations of HBO, the company seemed fine with scrapping completed work and giving Levinson a budget of unknown proportions. One veteran crew member calls the excess spending "the most egregious I've ever witnessed in this business."
"This was such a strong example of just how far [Levinson] can really push HBO and they will continue to cover [him] because he brings in money," a second crew member adds. "He's able to walk away unscathed and everybody still wants to work with him… People ignore the red flags and follow him regardless."

There's still no set release day for The Idol. It was expected to make its debut in the fall of 2022, following the finale of House Of The Dragon, but months later there's still no premiere date. With any luck, this dismal project will never see the light of day.