Blunt, sardonic, and—at least in the 1993 Addams Family Values film—surprisingly woke, Wednesday Addams is the perfect icon for these bleak modern times. And a new letter published in The New Yorker reveals how she got her name. The letter is a response to The New Yorker's July story called "The Addams Family Secret," which is about a massive 14x4 foot Charles Addams painting known as "An Addams Family Holiday." Originally painted for a hotel in the Hamptons, the canvas mural was eventually transferred to Penn State after an alumnus bought the hotel. And reader Joan Blake writes in to say:

It was a pleasure to see a copy of Charles Addams's painting "An Addams Family Holiday" printed in the magazine (Sketchbook, July 9th & 16th). I met Addams in New York more than fifty years ago. I lived in North Carolina, but had travelled to the city for a court case involving the custody of my children. I was staying with my college roommate, and she threw a large party, which Addams attended. I was so depressed that I sat on the couch all evening. Addams sat down beside me and asked what was wrong. I told him. He took my arm, walked me to the elevator, and took me to P. J. Clarke's. He made me laugh and told me that the Addams Family was being made into a television show, and that he had no name for the little girl. I said, "Wednesday—Wednesday's child is full of woe." And Wednesday became her name.
There's no doubt that Blake offers a lovely story, but is there any hard evidence for it? Between 1938 and his death in 1988, Addams drew dozens of single-panel Addams Family cartoons, many of which were published in The New Yorker. But, as Blake mentions, Addams didn't give the family members individual names until around the time the characters were adapted for the 1964 TV show. It's generally accepted that Addams named Wednesday after the 19th century nursery rhyme "Monday's Child," which contains the "Wednesday's child is full of woe" line that Blake is referencing. But an excerpt from The Addams Family: An Evilution by H. Kevin Miserocchi gives even more details about Wednesday's name origins:
A year [before the TV show], a Manhattan-based company named Aboriginals, Ltd had opted to manufacture stuffed fabric dolls based on the Addams family characters. Addams had been thinking about Morticia as the name of the skeletal beauty in black rags, Gomez was already Gomez, and a friend suggested that the pallid little girl he was drawing certainly suggested Wednesday, the child of woe from the traditional nursery rhyme. Addams liked it.
Assuming Blake is the "friend" in question, her story largely lines up with the official account. (Interestingly, the toy line—which was very short lived—named the Addams family son Irving before Addams officially named him Pugsley for the TV series.) So it turns out we (probably) have a North Carolinian named Joan Blake to thank for Wednesday Addams.
Send Great Job, Internet tips to gji@theonion.com
G/O Media may get a commission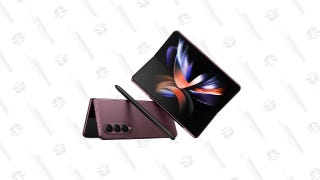 Save Up to $300
Galaxy Z Fold4