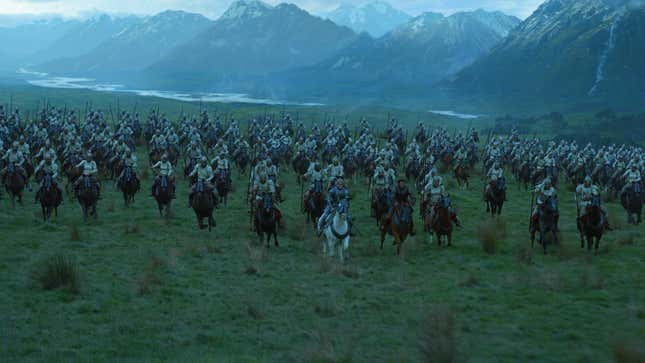 A horse being used for filming an episode of Amazon's The Lord Of The Rings: The Rings Of Power died earlier this month, according to The Daily Mail, which said that the horse was "one of 100 charging towards a camera while rehearsing a battle scene." The horse reportedly was "wearing full regalia and had a rider on its back," and an investigation later determined that the animal had died of cardiac arrest. A veterinarian was on set, as was a representative for the American Humane Association, who said in a statement that this is a "terribly sad story" and that "proper protocol was followed at all times."
"Shrinking" star Christa Miller on Harrison Ford and that "Clone High" revival
Deadline has a statement from Amazon Studios, which says that the horse was being exercised prior to rehearsals and that the trainer was not in costume and filming had not started. The horse was one of more than 30 being used on the set that day, and it was "standing around with around 20 other horses when it suffered cardiac failure." When the horse collapsed, the set was cleared for "30-45 minutes" so it could be removed and then "work resumed." (Grim.)
The horse had been provided by a group called The Devil's Horseman, which has supplied animals to a bunch of other high-profile movies and TV shows (including Justice League and Game Of Thrones), and this is the "first known horse fatality in the 50-year history of the company." The Devil's Horseman is also a new horse supplier for the series, which moved production to the UK from New Zealand for its second season.
Deadline notes that a horse died while filming HBO's The Gilded Age last summer, and there's also the story of David Milch's Luck, which was canceled partially because of a number of horse deaths that happened during filming.
UPDATE: PETA has responded to the horse's death with a statement asking the producers of Rings Of Power (and all other things) to stop "exploiting animals for their art."
It seems that living underground with the orcs is par for the course for the producers of The Rings of Power, because they have the option to use CGI, mechanical rigs, and other humane methods that wouldn't run vulnerable horses to death on set. PETA is calling on the show's creators—and all other producers—to take on a new quest without using any real horses. If they can't avoid exploiting animals for their art, they should find a new medium, because no one wants to see a spinoff for TV with torment as the theme.