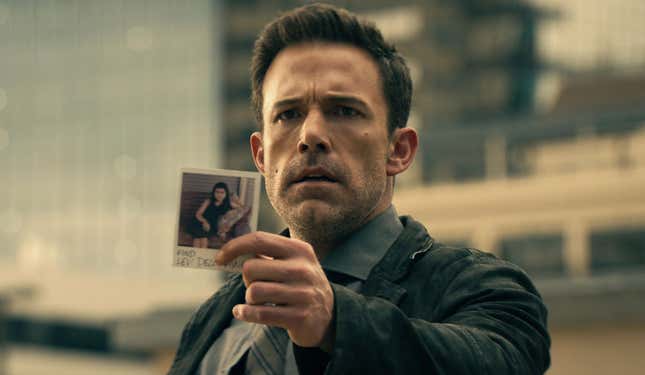 Hypnotic may be Robert Rodriguez's most conventional movie since 1998's The Faculty, and that's not at all a bad thing. While his ambition can lead him to delirious highs like Sin City and Alita: Battle Angel, the writer-director-excess-multitasker is also extremely prone to over-rushed, half-assitude like Machete Kills, or near-endless failed attempts to make another kids' movie as great as the first Spy Kids. His proposed remakes of Heavy Metal, Fire And Ice, and Red Sonja may remain in development hell, but instead he's done the most surprising thing that he could. And that's to make a star-driven cop/heist/chase movie with a sci-fi twist. It's his version of a Christopher Nolan original, except for the fact that it costs far less and everything gets explained by the end.
Florence Pugh's indie pals weren't happy when she joined the MCU
The movie begins, like the TV show Lost, with an opening eye. A pen taps rhythmically, like a metronome. Ben Affleck is in therapy. He's Rourke, a cop attempting to prove he's fit for duty again following the disappearance—likely abduction—of his daughter. Ready or not, the events of the day suck him in regardless, as his partner Nicks (J.D. Pardo) just got a mysterious tip about a bank that's about to be robbed of exactly one safe deposit box. Since that would follow a recent pattern of similar crimes, it seems legit.
Just like every audience member who's ever seen a cop movie before, Rourke almost immediately fingers William Fichtner as a primary suspect the moment the latter walks onscreen. But he can't bust him without proof, and all Fichtner's mysterious character seems to be doing is walking up to people and making post-hypnotic suggestions. They're powerless to stop from acting on his command, and he seems to have beautifully choreographed every person he meets to thwart Rourke on a large scale. But not before Rourke finds a clue that his daughter may be involved, and his opponent's name is apparently Dellrayne.
The less said about what ensues, the better, beyond the fact that Rourke teams up with a former associate of Dellrayne's named Diana (Alice Braga), who moonlights as a scammy faux-psychic. Mysteries unfold, and like Inception and Tenet, the story has something of a symmetrical structure. Anyone familiar with twisty thrillers may see a thing or two coming, but probably not the full picture.
Rodriguez isn't generally a filmmaker big on ambiguity; nor is his co-writer Max Borenstein, who's responsible for the recent Godzilla and King Kong movies. Much to the likely relief of many, they don't just throw out an obvious red herring and call it a day. Once it's established that the primary antagonist can forcibly hypnotize anyone, nothing we see is entirely trustworthy. Even as he plays around with this conceit, however, Rodriguez appears to mostly play by his own rules. And he throws in a few visual effects, though they aren't really needed, just to show he can do the Nolan scenery folding trick, too. Perhaps as counterbalance, he lets at least one scene of pure exposition in a drab setting go on longer than it ought.
Hypnotic isn't just refreshingly straightforward for Rodriguez, but for Ben Affleck too. Traditionally, the actor has fared less well in generic leading-man parts than in character roles. Here, growling out the last vestiges of his Batman voice, he convincingly comes off like a guy who's seen some stuff and come out maybe slightly the rougher for it. Never much of a convincing action hero back when Michael Bay was pushing him to the moon as one, Affleck today falls more naturally into the Danny Glover-ish "gettin' too old for this shit" space. Which, of course, means he's not actually too old for it.
On a deeper level, one could consider the hypnosis at work in the story a metaphor for the filmmaking process itself, and especially Rodriguez's particular process of working with his family on his own virtual stages. Like Dellrayne, he's doing it to put images into your head, and immerse you in a new reality. Watch it alone, and that reality will even be uniquely yours for a while. Watch it with an audience, and others may see things in different ways. Actors might play multiple parts. Sometimes, as with the insufferable We Can Be Heroes, the man behind the curtain will be the villain in your story. With Hypnotic, he earns a bit of redemption. Let's just all agree to forget that mid-credits sequel tease. For now, anyway.
---
(Hypnotic arrives in theaters on May 12, 2023)