Here's what's up in the world of TV for Tuesday, April 21. All times are Eastern.
Top pick
Inside Amy Schumer (Comedy Central, 10:30 p.m.): For those still feeling those post-Kroll Show blues, Amy Schumer is here to keep the sketch train a-rolling. She's kicking the third season off in style, with an episode in which she "meets her heroes, attempts to get birth control, and discusses defecation." We really hope that's all describing just one story. We know we take any chance to meet our idols as an opportunity to hit them up for some birth control and swap poop stories. Kate Knibbs would say that's too much information, but then she remembers we're talking about Amy Schumer.
The people's top pick, now and forever
Person Of Interest CSI: Cyber (CBS, 10 p.m.): Person Of Interest is chilling out for one more week, which means CBS is unleashing the unholy power of original flavor NCIS followed by gumbo-style NCIS: New Orleans followed by tech-crazy CSI: Cyber. Truly, this is the golden age of television.
G/O Media may get a commission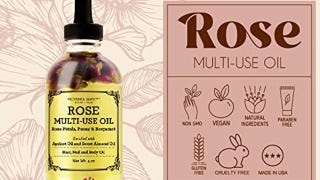 Provence Beauty Rose Multi-Use Oil
Also noted
Fresh Off The Boat (ABC, 8 p.m.): The first season wraps up with Jessica worrying the family has lost its Chinese identity, which means Louis has to turn down a country club invitation and Eddie has to do a school report on China. Honestly, those just sound like sensible courses of action anyway—country clubs are lame, and knowledge is power, particularly when it's knowledge about one of the most powerful nations on the planet—but Dan Caffrey feels confident Jessica can make this sufficiently weird.
The Flash (8 p.m.): The Arrow crossovers just keep on coming, as Cisco and Detective West head over to Starling City as part of their ongoing investigation into Harrison Wells. Both members of the Lance family are slated to appear, which means Scott Von Doviak has plenty of vaguely (well, maybe more than vaguely) implausible superheroics and awesomely hard-boiled detective dialogue to look forward to.
iZombie (The CW, 9 p.m.): So, is there a way to explain this show's premise without it sounding completely ridiculous? We tried earlier today and all we got were laughs. (At least until we mentioned the whole "from the dude who created Veronica Mars," which brought people around pretty quick.) Anyway, per the description of tonight's episode about a murdered computer hacker, "Liv inherits intense agoraphobia and mad skills at computer gaming when she consumes his brains." You know iZombie, you're not making our job or Carrie Raisler's job any easier.
Regular coverage
Community (Yahoo!, 3:01 a.m.)
Marvel's Daredevil (Netflix, 7 p.m.)
Marvel's Agents Of S.H.I.E.L.D. (ABC, 9 p.m.)
Finding Carter (MTV, 10 p.m.)
Younger (TV Land, 10 p.m.)
Elsewhere in TV Club
Katie Rife offers a Primer on Lifetime television movies, and in case anyone is worried she's not going to talk about Mother, May I Sleep With Danger?, just know that Mother, May I Sleep With Danger? is the main photo for the article, and Mother, May I Sleep With Danger? is the first essential movie she lists. The sooner we as a species all acknowledge we're never topping the giddy genius of a title like Mother, May I Sleep With Danger?, the sooner we can all enjoy our slow, inexorable decline.
What else is on?
The National Mall: America's Front Yard (PBS, 8 p.m.): Goodness, that is just the most PBS title ever. Even if the National Mall feels like it ought to be a dry topic, there's a lot of history to explore here, from the initial 1791 plans by French architect Pierre Charles L'Enfant to the planting of 4,000 Japanese cherry trees. Okay, fine, this sounds like a documentary conceived, written, and directed by Leslie Knope. Like that's a bad thing!
King Of The Hill (Adult Swim, 8:30 p.m.): Look, we know it's not ideal that Adult Swim won't play these episodes in their original aspect ratios, but that doesn't change the fact that tonight's second King Of The Hill rerun is "Vision Quest," and that's maybe our all-time favorite episode of the entire series. It's definitely the best John Redcorn episode, it's a top three Dale Gribble episode, and it has maybe the funniest episode-closing gag in the show's history with its Hollywood Squares dream sequence. This one is worth dealing with the wonky aspect ratio.
Last Days Of The Nazis (History, 9 p.m.): Sound the alarm, people: The History Channel is bringing back the Nazis! Yes, History is taking a break from airing programs that really aren't historical—plus Vikings, Vikings is good—to get back to one of its old-school standbys, the Nazis. And the channel is seriously going all-in, as this three-night miniseries isn't just about Nazis, it's told by Nazis, as the miniseries uses thousands of interrogations of ex-Nazis conducted in 1945 to form the basis of its story. Look, if this is anything like the History Channel's recent explorations of the World Wars, it's probably going to be massively flawed and inaccurate, but hey! It's still like the History Channel is finally getting the (Nazi) band back together.
Frontline (PBS, 10 p.m.): Tonight's special is "American Terrorist," a profile of David Coleman Headley, who was one of the conspirators behind the 2008 attacks in Mumbai. This will not be a fun hour of television, but, like most things Frontline does, we're going to guess it's very much worth watching.
Real Sports With Bryant Gumbel (HBO, 10 p.m.): Among other topics, tonight's episode features a profile of new University of Michigan football coach Jim Harbaugh, who is just delightfully insane. Exhibit A: This maniac loves and respects Judge Judy more fiercely than you have ever felt anything about anything. The man sat front row for a Judge Judy taping while he was still the coach of the San Francisco 49ers.
Jarhead (MovieMax, 6:55 p.m.): Everyone now knows this movie is great, right? We don't have to keep calling it underrated? Well, it's awesome, and it's one of the great war movies without any actual war in it.
Jay And Silent Bob Strike Back (IFC, 8 p.m.): Of Kevin Smith's first five movies—the core works of the View Askewniverse, not that we know what that term means or anything—which one holds up the best? Chasing Amy and Dogma aren't nearly as perceptive as they seem to think they are, and we kind of go back and forth on whether Clerks' ultra-low-budget, zero-frills aesthetic is charming and perfect for what it is or just sort of cheap. (On balance, we think it's still the former, but it's not like we're really in a rush to revisit it.) Crap, is it actually Mallrats—cheerfully dumb, fundamentally unassuming Mallrats—that has ended up holding up the best, if only because it's the one that always knew exactly what it was trying to be? Point is, the right answer probably isn't Jay And Silent Bob Strike Back, which is way too heavy on the in-jokes and meta-references to work on its own terms. Then again, it's got Will Ferrell just before he became a comedy megastar and a truly inspired Good Will Hunting parody, so let's not write this one off just yet. (And yes, we're the part of the What's On Tonight gestalt that grew up in New Jersey, hence our surplus of opinions on early-period Kevin Smith movies.)
NBA Playoffs: Celtics at Cavaliers/Mavericks at Rockets (TNT, 7 p.m./9:30 p.m.): These two playoff series feature some transcendent stars—LeBron James and Kyrie Irving for the Cavaliers, James Harden for the Rockets—going up against two of the four or five best strategic coaches in the league, with Celtics young gun Brad Stevens and longtime Mavericks chess master Rick Carlisle looking to scheme their way to some desperately needed Game 2 upsets. Based on the results of the series openers, neither upset is looking all that likely, but if any coaches know how to get their teams to punch way above their weight in ways you wouldn't expect, it's these two.
In case you missed it
Cucumber/Banana: Brandon Nowalk takes a look at the second week of the linked miniseries from former Doctor Who showrunner Russell T. Davies (or, as is rather more pertinent in this particular context, Queer As Folk creator Russell T. Davies).