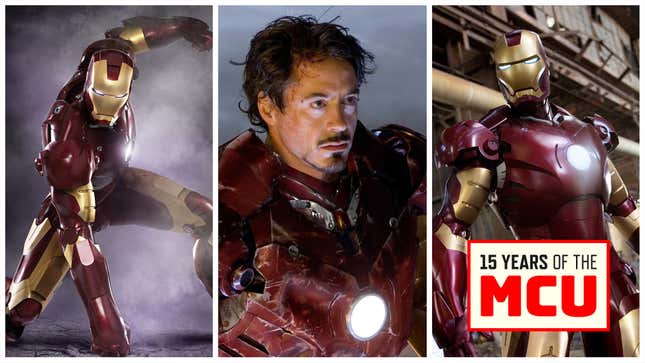 Marvel Studios' first solo film, Iron Man, boldly launched the Marvel Cinematic Universe on May 2, 2008. The $200 million production would go on to gross $585 million worldwide and $200 million more on domestic home video sales. The two-hour epic boosted the careers of two of its stars, solidified its director's cred, and proved that a superhero slugfest could be equally thought-provoking, somewhat plugged into world affairs, and quicken one's pulse. Critics embraced the film, it landed two Oscar nominations, and last year it was selected for preservation in the United States National Film Registry by the Library of Congress as being "culturally, historically, or aesthetically significant."
Judy Garland's previously missing Wizard of Oz dress to be auctioned off
But when it was being made, many inside Marvel Studios didn't think it would fly.
"First of all, not too many people were thinking Iron Man was going to have an opening weekend or do much of anything, so we were a little bit left alone," Downey recalled of the production process during a DGA screening and Q&A in late 2022. "I find out more every day about how that thing was financed. It was basically ready to be written off if it tanked." He added, "It was the perfect thing where there were not a lot of creatively aggressive eyes on us. And by the time they gave it to us, it was like [artist-owned movie studio] United Artists, like the lunatics took over the asylum."
The creation of Iron Man sounds like it was controlled chaos. And it's a little bizarre to look back and think the company that unleashed the popular, armor-clad hero on the world lacked confidence in Ol' Shellhead's ability to generate box office revenue. They even had the effects genius of companies like ILM and Stan Winston Studio behind them.
In retrospect, however, the modern superhero movie revolution had not quite kicked into high gear. Since its inception in 1993 (first as Marvel Films), Marvel Studios had been licensing out their well-known properties: Blade to New Line Cinema; X-Men, Daredevil, and Fantastic Four to Fox; and Spider-Man and Ghost Rider to Sony. Most were moderate to big hits, but as sequel budgets increased, box office receipts were not swelling accordingly. (On the DC side, Batman Begins fared well financially but Catwoman bombed and Superman Returns disappointed.)
Fighting for Downey
When director Jon Favreau joined the production in 2006, he had scored a big hit with the Will Ferrell holiday comedy Elf. As Marvel Studios president Kevin Feige has recalled, despite being a talented actor and filmmaker, Favreau was not yet the film and TV powerhouse he is today. But Favreau understood character and comedy, two key ingredients to the success of the film. He had appeared as Foggy Nelson in the ill-fated big-screen adaptation of Daredevil, the theatrical cut for which suffered from the removal of many key character scenes featuring him (among other things). He no doubt learned from that error in judgment.
Favreau originally had wanted to cast a lesser-known actor in the titular role of Iron Man, but then it dawned on him that he knew the perfect person for the gig: Robert Downey Jr. The suits at Marvel pushed back against his top pick. While Downey had done a series of critically acclaimed films following his two-year stint in jail on drug and weapons charges, he was not the box office draw he once was. But he had been sober since 2003, and the director fought hard to get his star—whose selection was also supported by co-star Terrence Howard, who played Stark's close friend and Air Force liaison James "Rhodey" Rhodes—and he ultimately won.
"Everybody knew he was talented," Favreau told Texas radio station Jack 100.3 back in 2014. "Certainly by studying the Iron Man role and developing that script I realized that the character seemed to line up with Robert in all the good and bad ways. And the story of Iron Man was really the story of Robert's career."
It translated for a celebrity addict who battled his demons and won to play a freewheeling arms merchant who had to face down the malevolent consequences of his actions. The opening scene of the movie showcases Tony Stark sipping what looks like bourbon while riding in a "Funvee" with starstruck soldiers following the Jericho missile demonstration to top military brass. Indeed, the opening scenes highlighted a playboy and brilliant scientist who was out of control with women, booze, and zero accountability for the weapons his company sold globally. But after being attacked and kidnapped by Afghan terrorists, who used his own missiles against him and demanded he build a Jericho for them, Stark learned that enemies of world peace, including his treacherous business partner Obadiah Stane (Jeff Bridges), lay within his own country's borders. He was contributing to the madness, and his decision to change his ways and reform his corporate model later led to a showdown with the greedy, vindictive Stane as Iron Monger.
"A $200 million student film"
The story may seem solid now, but during production reportedly much of the original script—first version by Art Marcum and Matt Holloway, with a new version written by Mark Fergus and Hawk Ostby—had been tossed out. The story about rewriting while filming proceeded gets muddled. Bridges groused both during the original press junket and in recent interviews that new lines were being written every day. It certainly took a village.
"It drove me absolutely crazy until I made a slight adjustment in my brain," Bridges told Vanity Fair last year, "and that adjustment was, 'Jeff, just relax. You're making a $200 million student film. Just relax and have fun.' And that kind of did the trick because here I get to play with these two incredible artists and just jam, and that's what we ended up doing."
Favreau, Downey, and co-star Gwenyth Paltrow (playing Stark's personal assistant and love interest Pepper Potts) have acknowledged that some improvisation occurred on set. There was a lot of scripted material as well. But let's face it, Downey's biggest improv line of the film—when Stark admits at the end that "I am Iron Man"—completely changed the trajectory of the series and the MCU.
In terms of Bridges' "student film" comment, Feige acknowledged to Vanity Fair in 2017 that "Marvel didn't have money on the line. They would have lost the film rights to some of the characters, but it was sort of a great experiment. People forget Iron Man was an independent movie. I had to do a lot. I pitched that movie dozens of times to foreign buyers because we had to get, I don't remember exactly what the percentage was, but a large percentage of financing it from selling it, pre-selling the foreign. We had a completion bond company." (They also landed Paramount as the distributor.)
The gamble paid off. Focusing on Southern California locales as opposed to the common New York spots in many other Marvel adaptations, Iron Man was hipper than many other superhero films had been and at times more layered. Tony Stark was a complicated and contradictory character: brilliant and visionary yet also cocky and narcissistic. He listened to Suicidal Tendencies, Ghostface Killah, and AC/DC (who had a big comeback that year which would soon be mirrored by Downey). He treated women as playthings but cared deeply for Pepper Potts. He liked to party it up but could also quote Machiavelli. He claimed to create WMDs to ensure peace, then when he decided that Stark Industries should stop making them he turned himself into a high-powered weapon. (The politics of the film itself are contradictory to many as well, but that's a whole other discussion.)
Iron Man was also loaded with Easter eggs. There were references to James Bond's Goldfinger, specific Jackson Pollock art, future Iron Man ally War Machine, a cameo from Rage Against The Machine guitarist Tom Morello, and the first of many Stan Lee cameos to come. Favreau surreptitiously played Stark's head of security Happy Hogan, taking on a bigger role in later films. Plus, there was the post-credits Nick Fury stinger that let audiences know Marvel had plans to build up to something greater with the Avengers Initiative.
Fan-first filmmaking
During the film's NYC junket in April 2008, it was clear that Favreau and Downey were the driving creative forces here and were passionate about the material. When one reporter had brought in the Iron Man issue with the famous "Demon In A Bottle" cover, Downey teased, "You must be loving that." Then during that roundtable, he began to thumb through that copy while answering someone else's question. It should be noted that the star said he had a palette of Iron Man comics delivered to him during the making of the first movie to better learn the character and mythos.
Downey also told journalists that day that he battled with some suits over their ideas by saying, "Tony Stark faithful to the fans is the best Tony Stark there will ever be. I just like this idea where there's so much reference, and then you get new people involved, and they go, 'We don't need to look at those comic books. The action sequence with the F-22s ...' I'm like, 'Wait! Whoa! Hi guys, really smart people and talented artists spent 45 years on this. Don't you think we can give this 45 minutes? Don't we have to?' Artistic license sometimes is the license to not realize that what you need is already there."
When Favreau saw the "Demon In A Bottle" issue at the junket, he endearingly remarked, "That's awesome. Oddly, if you sign that, the value goes down. I had Stan Lee sign one. You're not supposed to sign those things. I did it anyway. I don't care. I'm going to sell it. Can I see it? Can I pull it out of here? My hands are clean!"
The enthusiastic reception to press screenings and the junket easily stoked the creative talent behind the film. When asked if alcoholism might play a factor in the next Iron Man movie, Downey replied, "Seeing as I will be entirely calling the shots for the storyline for Iron Man 2, 3, and 7 … I don't know. I think an interesting way to address it would not be an obvious way." Someone was cocky about Iron Man's success. But it wasn't unwarranted.
"We ended up landing a tone with Iron Man that became the formula moving forward," Favreau told Vanity Fair in 2017. "You want to mix great casting, stay true to the characters, a combined universe that would allow cross-pollination. And having humor and adherence to canon."
The blockbuster success also revitalized both Robert Downey Jr.'s and Jeff Bridges' careers. (The latter had been doing acclaimed but not necessarily high-grossing work then.) Over the next decade, Downey would portray Iron Man onscreen nine more times, including his Hulk movie cameo. He also found success in two movies with his brainy and brawling version of Sherlock Holmes. Over the next three years, Bridges would go on to win the Oscar for Best Actor for the musical drama Crazy Heart, head up the big-budget sequel Tron: Legacy, and blast his way to another Best Actor nom and big box office in the Coen Brothers' remake of True Grit. And Bridges' self-titled country solo album went Top 30 and sold around 350,000 copies.
Favreau's star also rose. He would go on to direct Iron Man 2, live-action remakes of The Lion King and The Jungle Book, executive produce numerous Marvel movies, and create the Star Wars series The Mandalorian and The Book Of Boba Fett. The movie was also a nice blockbuster boost for Paltrow as Pepper would appear in six more MCU films. On the flip side, Terrence Howard was edged out of the MCU after he made larger salary demands that Marvel rejected.
Thanks to the success of Iron Man, nearly all of the subsequent Marvel movies would not only grow the franchise but continue to grow their box office. The 20-movie arc of the first three phases of the Marvel Cinematic Universe led up to the epic Infinity War and Endgame movies for the Avengers. Tragically and yet fittingly, this would lead to the death of Tony Stark and Iron Man. But it makes sense that after playing that hero for a decade the accomplished actor would want to go on to other roles.
Even for those who don't like superhero movies, Iron Man still resonates because it finds the right balance between fantasy and a sense of connection to the modern world. It's witty and smart escapism. Fifteen years later, it remains one of the crown jewels of Marvel Studios. Not bad for a $200 million "independent movie."