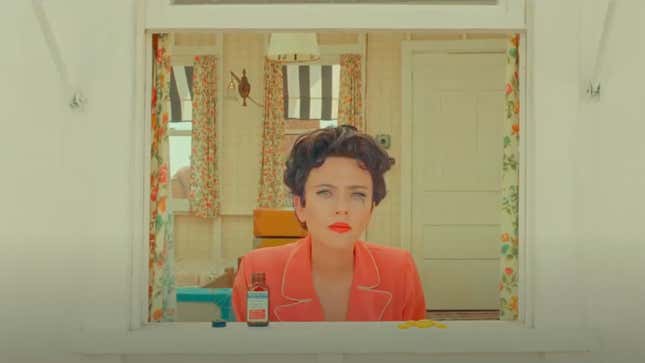 The first trailer for Wes Anderson's highly-anticipated Asteroid City is here, offering a first glimpse at the director's self-professed "poetic meditation on the meaning of life," and the stacked cast he assembled to tell it. Welcome to Asteroid City, Farm Route 6, Mile 75: the most reverently pastel, whimsically tchotchke-heavy site of alien activity out there.

John Hughes says the director called his Ferris Bueller performance "boring"
First confirmed by Bill Murray in October 2021, Asteroid City—Anderson's first since 2021 newspaper dramedy The French Dispatch—takes place at a "Junior Stargazer/Space cadet convention" in "a fictional American desert town circa 1955," per a synopsis from Focus Features. Each year, the aforementioned Stargazers and Space cadets gather in the dusty metropolis to celebrate Asteroid Day, honoring September 23, 3007 B.C., when an asteroid made contact with the earth.
For Asteroid City, Anderson called on some of his most consistent collaborators, placing Jason Schwartzman at the top of the bill as a father of four who, upon encountering some car trouble, gets stuck with his three daughters at the Asteroid Day celebration that his son (Jake Ryan) had planned to attend.

At first, it's all fun, games, and general science fair revelry. But when real otherworldly activity arrives at Asteroid City—and the convention site is quarantined while the government investigates—the attendees each, in their own ways, begin to question their own purpose, and even the meaning of life itself. (Sounds like quarantine, alright.) At the convention, Schwartzman is joined by Scarlett Johansson, Tom Hanks, Jeffrey Wright, Tilda Swinton, Bryan Cranston, Edward Norton, Adrien Brody, Liev Schreiber, Hope Davis, Stephen Park, Rupert Friend, Maya Hawke, Matt Dillon, Hong Chau, Willem Dafoe, Margot Robbie, Sophia Lillis, Tony Revolori, and Jeff Goldblum (whew!).
Asteroid City finally lands in theaters this summer, with a limited release set for June 16 followed by a larger opening the next weekend. The film joins a summer lineup already rich with long-awaited hot ticket ensemble films, namely Greta Gerwig's Barbie and Christopher Nolan's Oppenheimer, both due for release on July 21.