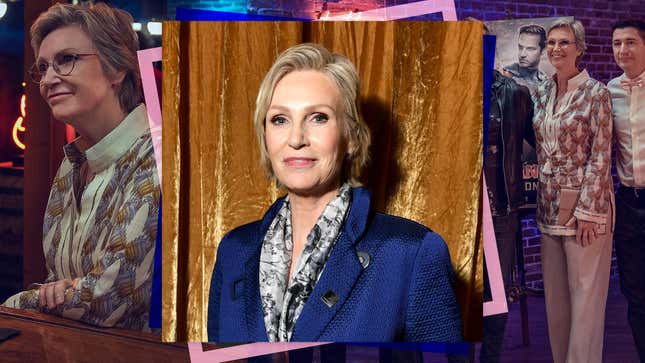 When Party Down was canceled in 2010, the cast—including Jane Lynch, Adam Scott, Ken Marino, Megan Mullally, Martin Starr, and Ryan Hansen—scattered, but still held out hope that someday, somehow, it would be able to reunite and make it to the small screen again. That day has finally come, people.
Starz's upcoming third season of the cult show, the legacy of which we dove into earlier this week, could not have arrived at a better time. Amid and after the COVID lockdowns, people across the country were in flux with their careers and their relationships. This is something that Party Down addresses head-on in its new batch of episodes, which kicks off February 24. And the show quickly sets the stage for why all of these folks would return to their survival jobs from more than a decade prior to begin with.
The one person on the show who doesn't need that sort of gig, though, is, of course, Lynch's Constance. When the original run ended, Constance had just struck it rich, marrying into money in the finale. She's back now but decidedly above the fray, swapping her catering uniform for relaxed caftans. To mark Party Down's comeback, Lynch chatted with The A.V. Club about her unshakable character, the show's legacy, her early gigs, and more.
---
The A.V. Club: You've been away from this character for a long time. What was it like stepping back into Constance's shoes?
Jane Lynch: It was a joy. And you know, I actually did go back and watch some episodes from the first round, just to make sure I remembered. I haven't played anybody like Constance since Constance. She's innocent and naive and guileless and she wakes up every morning living the dream. As opposed to all the other characters on this show, she's not really reaching for anything. She's just kind of a happy idiot. [Laughs] I hadn't played anybody like that in a long time, and I went went back and looked, and I was like, Ugh, I can't wait to get into that caftan and be new age-y Constance, who's basically the same person she was 12 years ago. She never changes. She's pretty solid in who she is. It was a delight. You never really know if you have it until you start acting with the other people. The first take of the first scene with all of us together—the first day, our reunion—it was a joy to come back home.
AVC: When you had that reunion, do you feel like it clicked into place pretty quickly?
JL: Yeah. It was hilarious—Ryan, who plays Kyle, has the first line of "Party Down reunion!" or something like that, and the way he said it, we were all like, Oh my god, that's Kyle! That's Kyle! I've seen Ryan; he's a friend and I've seen him for many years since Party Down. And to have him come back and do it as Kyle … it was a joy.
AVC: You can tell watching it how much fun you are all having. When you first started playing this character back in 2009, can you recall a moment where it clicked for you? Do you think you always knew who she was, or was there a specific time when you said, "That's Constance?" 
JL: Gosh, I can't remember the moment, but I will tell you this. I started out kind of doing my typical Jane thing, and Rob [Thomas], our showrunner, said, "I'd like you to play her really innocently." And John Enbom, our writer—he wrote every word of our scripts for the first two seasons, just him, all by himself—he started writing for this character. His writing informed me. Because usually, we show up with our thing, you know, Oh I'm gonna do it this way. I can't remember the moment, but I can tell you, John's writing blossomed my character. He's the one who provided me the primo material for Constance, because that was not my instinct.
AVC: She's definitely a very innocent character, and she's definitely very similar now to the one we saw years ago. She feels a little more new age-y to me this time, and maybe she hasn't been working quite as hard as she was back then. She seemed a bit more relaxed.  
JL: She has a lot of money now! It's the same person, but with different trappings, different outfit. She has a lot of money, because she married a very rich, very old man who died at the end of the ceremony. So, in the moment, she's crushed that her husband died, and then it hits her and she goes, "I'm rich!" So for the next 11 years—and, luckily she didn't piss her money away, because that would not be beyond her—I think she sat down one day and said, "I am going to become a patroness of the arts." She supports artists who are doing crazy, stupid things. She loves being new age-y; she's always lighting incense. She went from the Party Down uniform to her new age-y uniform. She's kind of playing a character, but it's beautiful; it's genuine and original to her. She believes everything that comes out of her mouth and every thought in her head.
AVC: Looking back at your career, Party Down feels like a turning point for you. You were obviously already successful. But when Party Down happened, Glee happened, and it seemed to me like a new level of stardom. Do you view this show as a turning point? A lot of the characters on this show are working actors waiting for their big moment. Do you relate to that?
JL: When we did Party Down, as a cast, we were not too far from where those actors were. We were working actors, but it was really just a handful of years ago, for some of us a couple years ago, that we were catering or working in restaurants or working in retail because we couldn't support ourselves in our craft. It was new for most of us, and, as you probably noticed, we all went on to do a lot more and it was a jumping point for a lot of us.
But around that time for me, I had just done The 40-Year-Old Virgin, Talledega Nights, Role Models. I met the folks from Party Down from Role Models, I believe, or maybe it was the other way around. Before that was Best In Show and A Mighty Wind. There's a 10-year era there where I was a working actor, which was great. People knew me by my name in the business, but maybe not on the street. Of course, after Party Down, that's when Glee came out, and that was big. I left Party Down to do Glee.
AVC: So you've had experiences working like Constance?
JL: I was a waiter in Chicago while I was trying to get theater jobs. I was in a non-equity theater department and auditioning for commercials. We didn't have television shows in Chicago back then. But I worked at a really popular lunch joint called R.J. Grunts. I was terrible at waiting tables, just terrible. And it stressed me out, and people were mad at me all the time, and I would dream at night about being in the weeds and people getting mad at me and being way behind on orders and the cook getting mad at me. And it was really great when I could stop doing that.
What I ended up doing was becoming a temp worker. Loftus and O'Meara was the temp agency. I was pretty good at answering phones. And I could work as much as I wanted, so if I got a play, I would just call in and go "I'm not available today."
AVC: I was also a temp in Chicago for a minute. It did not go super well for me.
JL: Well, you're doing fine.
AVC: When you got the call that they were bringing the show back, was it an easy, immediate yes? Did you have any hesitations?

JL: No hesitations. Immediate yes. We all had been basically begging to do this again. And in the intervening 10 years, 11 years, 13 years, we almost did a movie. Starz was gonna have us back and then that fell away, so we've had kind of our hopes up several times and then dashed several times. So when this one came up, I was like, I'm not going to get too excited. I went to the wardrobe fitting and I was like, Okay, this looks like it's happening. But I didn't get too excited until I showed up on set and saw, it's really happening. And I had a little honey wagon. And my outfit was in there, and everybody was there, so I didn't believe it was going to happen until it did. This was for everyone. We all had the same experience. We all wanted to do this again.
AVC: It's always interesting to me to see how shows are incorporating COVID into their storylines. I think the way that Party Down does it is so smart. It's such an organic way to have the crew work at Party Down again, because that is a thing that happened to a lot of people. I'm curious if you have thoughts about that and curious about how you think Constance spent her lockdown. 
JL: I love how the lockdown almost put Ron's business, Party Down, almost out of business, to the point where he was living in that van. He hadn't had any calls in two years because of COVID and finally he gets a call, and it looks like he might have a job that's big enough to introduce him to other big jobs that he can sustain this business. Basically, it's really fun to watch Ron sabotage himself like he always does when something is almost handed to him.
I'm sure Constance survived the lockdown with no problem at all. In a way, Constance is almost like a Buddha. Life goes on around her, and she's in the center just being Constance. Being constantly Constance. I think she's aptly named.