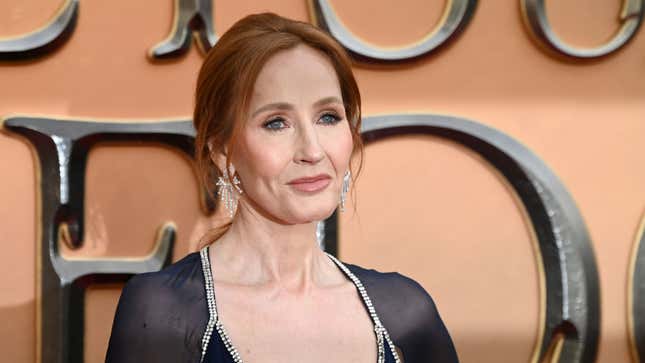 The embattlement doesn't end for noted author—and noted proponent of TERF ideology—J.K. Rowling. Over the past year, her production company Brontë Film and TV has reportedly experienced a 74% drop in profits, in large part because of COVID-19 restrictions.
Surprise: J.K. Rowling has more to say about her ruined legacy
Per a UK Companies House filing obtained by Deadline, Brontë charted a pre-tax profit of £1.8M ($2.2M) in the 12 months leading up to March 2022; comparatively, the company brought in £6.9M ($8.6M) over the same period the year before.
Established in 2012 by the author and her literary agent Neil Blair, Brontë Film and TV was formed with the central purpose of adapting the author's written work for stage, screen, and beyond. So far, the financial endeavor has been the opposite of fruitful: Brontë's earnings report cited "lower income streams and profit shares from theatrical productions which were closed for a large part of the [financial] period due to Covid restrictions" as a culprit behind the losses.
Brontë's subsidiary, Harry Potter Theatrical Productions—the arm behind Harry Potter and the Cursed Child—fared even worse than Bronté itself. HPTP reported a 2022 revenue of £3.5M ($4.3M), a £6.6M ($8.2M) or 65% drop from 2021. Pre-tax profit fell an abysmal 84%, to £1.1M ($1.5M).
Amid the devastation, Brontë also reported some good (or if you ask us, dismal) news: the company is still moving forward with a planned adaptation of Rowling's novel The Ink Black Heart. Penned under her pseudonym Robert Galbraith, The Ink Black Heart follows a YouTuber battling against an internet mob accusing her of racism, ableism, and transphobia. (Rowling has sworn the character isn't based on her own experiences, and, you know... sure.) The 1000-plus-page tome will be adopted to serve as the season 6 plotline of BBC detective series Strike. Production will reportedly get underway later this year, ahead of a slated 2024 premiere.