Jon Wurster is an in-demand drummer for Superchunk, The Mountain Goats, Bob Mould, and other bands. With Tom Scharpling, he's also one half of the comedy duo Scharpling & Wurster, whose work can be heard most weeks on the Scharpling-hosted radio show and podcast The Best Show On WFMU, which can be heard live each Tuesday at 9 p.m. eastern over the New York and New Jersey airwaves, online at wfmu.org, or via podcast. Wurster is also a vocal enthusiast of rock documentaries, so we asked him to pick some favorites for our readers.
If you're foolish enough to follow me on Twitter, you know I have a major documentary addiction—specifically rock documentaries. So when The A.V. Club asked me to write about my favorite rock documentaries my immediate response was, "What do you guys think I am, made of money?" When I realized that didn't make any sense I said, "Okay."
I thought I'd sidestep some of the more obvious choices (Don't Look Back, Some Kind Of Monster, Anvil: The Story Of Anvil, Gimme Shelter, Dig!) and spotlight a handful of lesser-known favorites. Several of these films have excellent twists so I don't want to give too much away. All right, let's talk rock docs!
1. The Reluctant Movie Star (2006)
While 1986's Hail, Hail Rock 'N' Roll is an acclaimed study of rock 'n' roll pioneer Chuck Berry that can hardly be considered obscure, it's The Reluctant Movie Star, a making-of documentary included in Hail's four-DVD deluxe edition, that warrants inclusion. Director Taylor Hackford and his crew weave the incredible, often harrowing story of Berry's myriad attempts to sabotage the film via extortion, a bizarre Winnebago accident, a voice-destroying, quick-money gig Berry played just two days before shooting the movie's big concert scenes, and by putting a female producer and his own girlfriend in danger of sexual assault while visiting a prison where Berry once did time. It can be argued that this documentary-within-the-documentary paints a more honest picture of this very complex man than the actual feature-length film.
2. Cannibal Corpse: Centuries Of Torment (2008) 
I find that some of my favorite music documentaries focus on genres in which I have little knowledge or interest. Case in point: this utterly engrossing three-hour journey through the 20-year history of death-metal pioneers Cannibal Corpse. The film meticulously chronicles Cannibal Corpse's improbable rise from mid-'80s air-guitaring teens from Buffalo, N.Y., to a world-touring band that's managed to sell millions of albums grinding out some of the most uncompromisingly extreme music ever made. Along the way the band pushes the boundaries of good taste (Exhibit A: the cover of 1992's Tomb Of The Mutilated), suffers the loss of key members (including a founding guitarist nobody's heard from since his '93 firing) and, amazingly, lands a profile-raising role in Ace Ventura: Pet Detective.
G/O Media may get a commission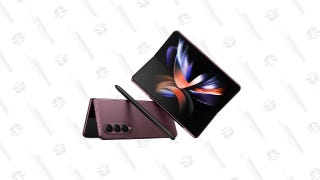 Save Up to $300
Galaxy Z Fold4
3. Rock The Bells (2007) 
"Kids have waited 10 years for this, and they're like a nuclear bomb getting ready to explode." That is southern California hip-hop promoter Chang Weisberg's grave assessment as he surveys a massive throng of fans waiting to get into the inaugural Rock The Bells festival. The year is 2006, and Weisberg has pulled off the unthinkable: a reunion of all 10 members of the notoriously hard-to-corral Wu-Tang Clan. Or has he? Again, I don't want to give away too much of this nail-biter, but things don't go at all according to plan come show day. Missed flights, faulty equipment, lax security, an oversold venue, and the ultimate wild card, Ol' Dirty Bastard, add up to a documentary that plays like a top-shelf thriller.
4. Kiss Loves You (2004) 
When Kiss announced the reformation of its original make-up-wearing line-up in 1996, tickets couldn't be printed fast enough. Kiss Loves You begins two years before the reunion with the band's popularity at its lowest ebb and most of the Kiss Army AWOL. What unfolds is a fascinating, sometimes depressing look into the world of those hardest of hardcore fans whose love for Kiss never waned. We meet the multi-generational "Kiss Family" whose members attend fan-promoted Kiss conventions dressed in painstakingly crafted costumes; Bill Baker, an Ace Frehley impersonator reveling in his boyhood fantasy of actually becoming friends with the object of his obsession; and several rival Kiss tribute bands whose backbiting provides Kiss Loves You's biggest laughs.
5. Phil Ochs: There But for Fortune (2010)
The first music biography that really grabbed me was Death Of A Rebel, Marc Eliot's excellent 1978 book on the life and tragic demise of folksinger Phil Ochs. There But For Fortune is a worthy companion to Eliot's book. Through interviews with friends and family a portrait emerges of Ochs as equal parts altruist and egotist. Ochs went out of his way to play any benefit that will have him while also entertaining dreams of James Dean and Elvis-like superstardom. While Ochs was embraced by the late-'60s counterculture, he never achieved the commercial success he craved. Depressed, Ochs sought inspiration by traveling the world with both positive and disastrous results: A treacherous visit to South America inspired him to stage a Bob Dylan-headlined Madison Square Garden "Friends Of Chile" benefit, while a violent mugging on an Tanzanian beach resulted in permanent vocal chord damage.
Oddly, it was the resignation of his mortal enemy Richard Nixon and the U.S. pulling out of Vietnam that sent Ochs into a devastating depression. For Ochs they were, as his brother Michael sums up, "the last dragons to slay." This combined with alcoholism, increasing paranoia and the heavy guilt of being an absentee father pushed Ochs to self-medicate his way into a dark slide that eventually ended in suicide.
6. Heavy Metal In Bagdad (2007)
When I'm peeved by something in my rock life, I think about Heavy Metal In Baghdad. I asked for unsalted roasted almonds and the venue gave me salted? The members of Acrassicauda ("black scorpion"), a struggling metal band in war-torn post-Saddam Iraq, live in fear of being shot just for practicing. "We got used to seeing dead people everywhere," says bassist Firas at one point, shrugging off a nearby mortar explosion as he prepares for an Acrassicauda concert in the ballroom of a fortified Baghdad hotel. The show's a success, but soon the war heats up and the band members scatter, ultimately regrouping in Syria where they live as refugees.
Unfortunately, there's even less of a music scene in Syria, and one of this film's most interesting segments finds Acrassicauda struggling to lay down tracks in a tiny Damascus studio whose proprietor has never recorded a drum kit let alone a metal band. Though the men of Acrassicauda pine for Baghdad, their families beg them not to return; there's no future for them or their music in Iraq. These warnings are hammered home as we see the headbangers fight back tears while watching video footage of the rocket-reduced pile of rubble that was once their Baghdad rehearsal space.
7. Driver 23/The Atlas Moth (2002)
Dan Cleveland is a Twin Cities deliveryman driven to write, record, and release his own music. The rub is that what gives Dan his incredible drive and focus is also what's tearing his life apart. "My brain is always operating at that level where there is always a flame underneath," says Cleveland, describing the OCD and ADD that causes various members of his band Dark Horse (think a more garage-y Queensrÿche) and eventually his own wife to seek greener pastures.
This enthralling two-part documentary, best described as a rock 'n' roll American Movie, follows Cleveland as he undertakes the laborious five-year task of recording Dark Horse's debut CD in a basement studio fashioned out of plywood, foam insulation and duct tape. The vast amounts of duct tape Cleveland employs serve as a perfect analogy for the delicate balance of prescription drugs he takes to keep his mind from racing. Though both installments are often heartbreaking, they're by no means exploitative, and while Cleveland and Dark Horse suffer some pretty heavy setbacks, there are more than enough triumphs to celebrate.
Bonus pick:
Overnight (2003) 
I can almost guarantee you will not celebrate anything about Troy Duffy, the subject of this rags-to-riches to rags morality tale. As Overnight begins we meet Duffy, a tough-talking Boston bartender living in Hollywood who's just sold his Boondock Saints script to Miramax Films for a substantial sum. (Duffy will also direct the movie.) Duffy becomes a tinseltown player, and a by-product of his newfound heat is the signing of his rock band The Brood to Lava Records, an Atlantic subsidiary. Duffy's multi-media coup immediately goes to his head, and instead of working to make the most of an enviable situation the increasingly unhinged Duffy burns bridges and alienates everybody in sight. When all is said and done, we're left wondering whether it's success that turned Duffy into a monster or is it just as Albert Goldman stated (in a quote flashed at Overnight's conclusion): "Success works on the man's personality like a truth drug, bringing him out of the closet and revealing… what was always in his head."