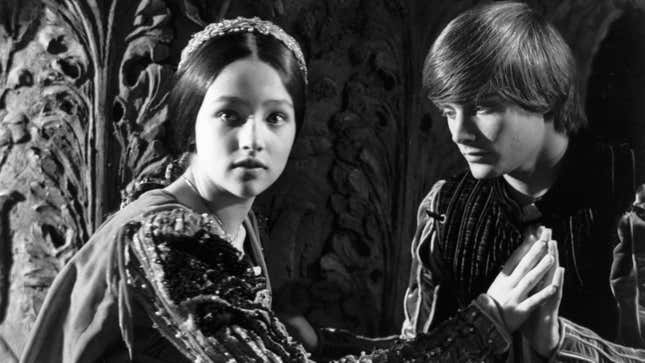 Earlier this year, the stars of Franco Zeffirelli's 1968 adaptation of Romeo And Juliet filed a lawsuit against Paramount over the film's underage nudity. Now both in their 70s, actors Olivia Hussey, who played Juliet, and Leonard Whiting, Romeo, were 16 and 17 when they appeared nude in Zeffirelli's Academy Award-winning film. They now consider their participation in the film's nude scene sexually exploitative and pornographic. A California judge disagrees.
Judy Garland's previously missing Wizard of Oz dress to be auctioned off
Per Variety, Judge Alison Mackenzie has sided with Paramount, agreeing to their motion to toss the case after determining the plaintiffs didn't comply with the Child Victims Act, a temporary law that lifted the statute of limitations on child sex abuse claims. Passed in 2019, the law offered survivors of sexual abuse a three-year window to file lawsuits over old allegations. However, the judge did not find claims of "child pornography" convincing. Ultimately, Judge Mackenzie decided the film was protected under the First Amendment.
"Plaintiffs have not put forth any authority showing the film here can be deemed to be sufficiently sexually suggestive as a matter of law to be held to be conclusively illegal," the judge wrote in their decision. "Plaintiffs' argument on the subject is limited to cherry-picked language from federal and state statutes without offering any authority regarding the interpretation or application of those statutory provisions to purported works of artistic merit, such as the award-winning film at issue here."
Hussey and Whiting, who basically stopped acting after the film, claim that the now-deceased Zeffirelli told his actors there would be no actual nudity in the movie and provided them with tan-colored undergarments for the scene. Yet, after the picture was released, their nude bodies became a staple in movie theaters and high school classrooms. One of the most revered film adaptations of Shakespeare, Romeo And Juliet found its way to many a lesson plan.

The scene features a quick shot of a 16-year-old Hussey as Juliet turns over in bed and reveals her breasts to the camera. In this scene, Whiting's bare buttocks are also visible. The actors' decorations described shooting the scenes similarly to going under the covers and simulating intercourse. However, Paramount's lawyers called their testimony "false and perjured" and "a completely different scene and sequence of events." Nevertheless, Hussey and Whiting's lawyer Solomon Gresen plans to file a new lawsuit tied to the Criterion Collection's 4k Blu-ray released last February.