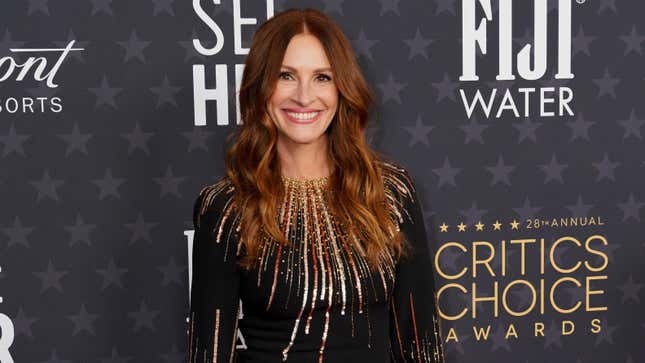 Looking back, it seems obvious to pair together two late '90s juggernauts like Julia Roberts and Shakespeare In Love. Actually, it seemed obvious then, too, as producer Edward Zwick reveals in a new essay about the making of the film for AirMail. The film was actually greenlit on the strength of Roberts' casting: "The mere possibility of having the Pretty Woman wearing a corseted gown got the studio excited enough to cough up the dough," Zwick recalls. Unfortunately (or perhaps fortunately, given the movie's eventual success), it was all downhill from there.
Matthew Mcconaughey thinks he might be Woody Harrelson's brother
First, Roberts insisted on pursuing Daniel Day-Lewis as her leading man ("He's brilliant—he's handsome and intense. And so funny!") despite the actor informing production multiple times he was committed to Jim Sheridan's In The Name Of The Father. Roberts' attempt to woo Day-Lewis with two dozen roses and a card that read "Be my Romeo" did not change his mind.
While in London, Roberts cut out of meetings early and failed to show up for a chemistry read (at least in part because she insisted Day-Lewis would take the role). When she did show up, it was a "disaster," according to Zwick. She "barely acknowledged" Ralph Fiennes ("He isn't funny") and over the course of the week allegedly turned up her nose at up-and-comers like Rupert Graves, Colin Firth, Sean Bean, Jeremy Northam, and her soon-to-be Notting Hill co-star Hugh Grant. "Julia found fault with all of them: one was stiff, another wasn't romantic, and so on."
After two weeks of attempts, Roberts—"looking radiant in full period costume—had a final test with actor Paul McGann. Except "it was clear she hadn't been working on the accent," and "there was no magic," according to Zwick.
"Sensing Julia's discomfort, I tried to be encouraging, but she must have intuited my unease, and I made the tragic mistake of underestimating her insecurity," he writes. "Having only recently been catapulted to the dizzying heights atop the Hollywood food chain, she must have been terrified to fail. But I would never get to talk her off the ledge. The next morning when I called her room, I was told she had checked out."
Much in the style of Runaway Bride, Roberts had ditched the entire production and fled back to the U.S. with no intention of returning. Having invested a lot in a Roberts-led production, Universal tried to woo her back to no avail. Just as well: Gwyneth Paltrow ended up winning the Academy Award for Best Actress, and the film racked up numerous additional awards, including Best Picture. The legacy of the film is somewhat tainted by Harvey Weinstein's ruthless tactics to boost awards chances, as well as his personal history of assault that extends to Paltrow herself. (In his essay, Zwick says Weinstein threatened to have him fired from the film.)
As for Roberts, "I've never spoken to Julia again," Zwick says. "Instead, I've observed from afar as her work grew in depth and stature. I bear her no ill will. She was a frightened 24-year-old. I wasn't much older, trying to act the grown-up as I watched the Globe Theatre torn down. And with it my dreams of grandeur."