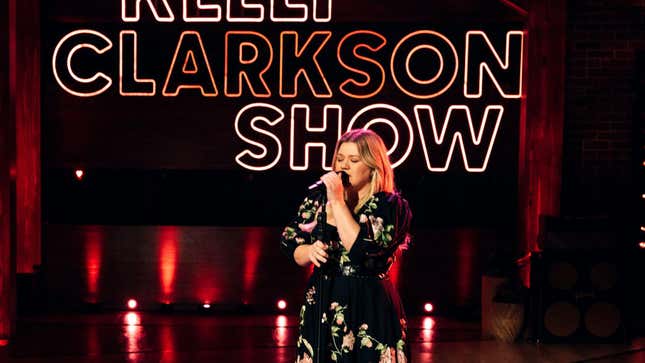 Talk show host Kelly Clarkson has issued a statement this weekend, addressing rumors and allegations of a "toxic" behind-the-scenes environment at The Kelly Clarkson Show. Per Variety, Clarkson addressed the reports on her Instagram account, writing:
In my 20 years in the entertainment industry, I've always led with my heart and what I believed to be right. I love my team at The Kelly Clarkson Show, and to find out that anyone is feeling unheard and/or disrespected on this show is unacceptable. I have always been, and will continue to be, committed to creating and maintaining a safe and healthy environment at The Kelly Clarkson Show. As we prepare for a move to the East Coast, I am more committed than ever to ensuring that not only our team that is moving, but also our new team in NY, is comprised of the best and kindest in the business. Part of that build will include leadership training for all of the senior staff, including myself. There is always room to grow and ensure we are all being/becoming the best version of ourselves in any business, especially when it comes to leadership, to ensure that any notion of toxicity is eradicated.
Apparently Kanye West has been a Hitler fan for quite some time
The accusations against Clarkson's show emerged from a recent Rolling Stone report that talked to several former staffers, and one current employee, at the daytime talk series. Drawing obvious parallels to reports that emerged surrounding Ellen in its last years on the air, the complaints—alleging bullying, verbal abuse, retaliation, poor working conditions and pay, and more—were centered not on Clarkson herself (who most of the employees in question seemed to believe was both lovely, and unaware of the issues), but on one of the show's top-level executive producers, Alex Duda, and several producers working under her.
NBCUnivesal, which produces the show, has issued its own statement, via Deadline:
We are committed to a safe and respectful work environment and take workplace complaints very seriously, and to insinuate otherwise is untrue. When issues are reported, they are promptly reviewed, investigated and acted upon as appropriate. The Kelly Clarkson Show strives to build a safe, respectful and equitable workplace that nurtures a culture of inclusivity and creativity.