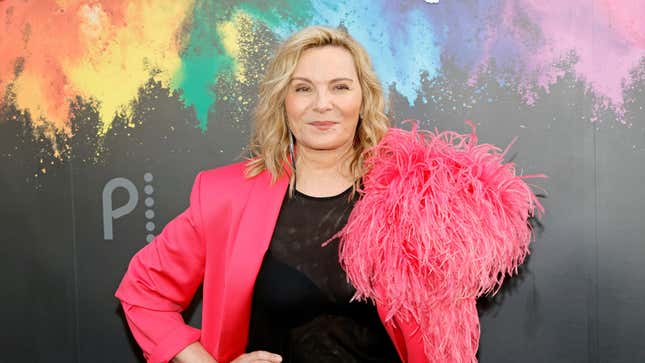 In a spirit of what we can only assume was love, reconciliation, and really not wanting to hear about this crap even one more time for the rest of her fabulous life, Kim Cattrall has reportedly filmed a cameo for the upcoming season of HBO's Sex And The City revival, And Just Like That…. But not just any cameo: We're talking about what sounds like one of the smallest, pettiest cameos that the human mind can conceive
This is per Variety, which reports that Cattrall—who washed her hands of the entire franchise pretty definitively after the filming of Sex And The City 2, and who has rejected all previous entreaties to bring her character Samantha back for the revival show, has finally relented, after teases that the character might be brought back for the show's second season. Succumbing to demands for her return—which she'd previously described as "bullying"—Cattrall apparently filmed all of half of a phone conversation with Sarah Jessica Parker's Carrie for the final episode of the show. But she did, apparently, have conditions. Per Variety:
According to sources, Cattrall shot her dialogue on March 22 in New York City, without seeing or speaking with the stars of the series, including Sarah Jessica Parker, or with And Just Like That… showrunner Michael Patrick King.
And, god, but would we have liked to have seen the contract negotiations for this—Cattrall clearly angling to have the bare minimum of exposure to this entire universe while still giving Samantha Jones one last chance to say farewell. It was previously reported that she'd declined to return for And Just Like That… due to unhappiness with certain planned plotlines, and stated in 2019 that she "went past the finish line playing Samantha Jones because I loved Sex and the City. It was a blessing in so many ways but after the second movie I'd had enough. I couldn't understand why they wouldn't just replace me with another actress instead of wasting time bullying."