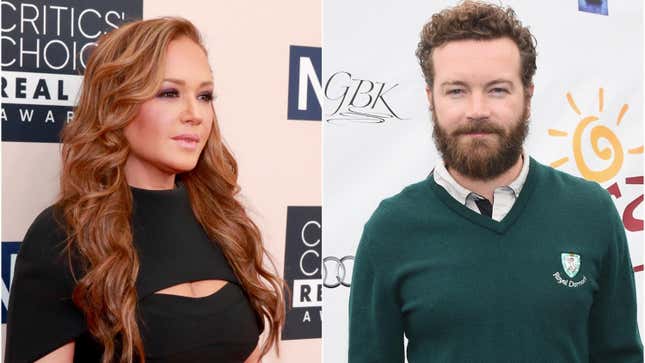 On Thursday, That '70s Show alum Danny Masterson was sentenced to 30 years in prison after being convicted on two counts of forcible rape. His trial became not only a referendum on his own actions, but also on the culture of the Church of Scientology, as Masteron's accusers claimed that the organization suppressed their stories to protect him. Anti-Scientology advocate Leah Remini became involved in the case, interviewing some of the survivors on her show Scientology And The Aftermath and ultimately becoming a scapegoat for Masterson's legal team.
That time Tom Cruise tried to pull Seth Rogan and Judd Apatow into Scientology
On Thursday afternoon, the King Of Queens star released a statement on the sentencing, writing on social media, "Sitting in court today with the women who survived Danny Masterson's predation was a surreal experience." She accused Scientology of obstructing justice for its members, writing, "For over two decades, Danny Masterson avoided accountability for his crimes. While Danny was the only one sentenced, his conviction and sentence are indictments against Scientology, its operatives, and its criminal leader, David Miscavige."
Remini named specific high-level Scientology officials, a "network of media-hungry unethical attorneys," and the Church's "Office of Special Affairs" as those who helped "cover up crimes of sexual violence," and praised the court for getting a "dangerous rapist" off the streets.
"Hearing the survivors read their victim impact statements aloud in court while the man who raped them and some of the very Scientologists who terrorized them over two decades were just a few feet away displayed a level of bravery that I am in awe of," Remini wrote. "These women not only faced the living hell of being raped, having their rapes covered up by the very organization that promised to protect them, but they have also faced ruthless and criminal harassment by Scientology and its agents since they came forward to law enforcement. I will always remind the public that in Scientology if you report another Scientologist to law enforcement, you are committing a high crime. The consequences of such a high crime are devastating: you will lose everything you've ever known, from your family to your friends to your job."
Remini has recently filed her own lawsuit against Scientology, accusing the organization of a campaign of "psychological torture, defamation, surveillance, harassment, and intimidation" in the years since she left the Church.
Masterson has maintained his innocence of the charges, and according to the Associated Press, his attorneys plan to appeal the decision. ​​"Mr. Masterson did not commit the crimes for which he was convicted," his lawyer Shawn Holley said in a statement following the sentencing. She claimed there were "a number of significant evidentiary and constitutional issues" with the convictions and believes they will be overturned, per the AP.
Niesha Trout, one of the women who accused Masterson of assault, said the Church of Scientology was Masterson's "enabler and protector" in a statement given at the sentencing hearing, per journalist Meghann Cuniff's Legal Affairs And Trials newsletter. She described herself as a "brain-washed member" of the organization and claimed the Church knew Masterson "had been raping its members but made concerted efforts to not only punish the victims" but also to cover up his crimes.
The Church of Scientology has denied these accusations, saying in a previous statement that "Church policy explicitly demands Scientologists abide by all laws of the land. All allegations to the contrary are totally FALSE." Meanwhile, Scientology is not the only one who stands accused of protecting Masterson; after the hearing, Trout said on X/Twitter that "post Danny Masterson's conviction & after they read all of the gruesome sworn-under-oath testimony of 5 of Danny's victims, Ashton Kutcher & Mila Kunis submitted letters to the judge asking her for leniency on Danny."