It's easy to praise Love & Mercy for what it's not. It's not a cookie-cutter rock biopic. It's not a slavish recounting of a story told dozens of times before. It's not an attempt to distill all of Brian Wilson's 72 years into 120 minutes of screen time. Oscillating between two significant chapters in the Beach Boy's life—a creative peak (which produced Pet Sounds and Smile) and a personal nadir (a period spent under the pharmaceutical thrall of quack psychologist Eugene Landy)—Love & Mercy establishes its unorthodox nature the first time Wilson's '80s self (John Cusack) fades away into his '60s self (Paul Dano). Multiple acting talents who bear no resemblance to one another, playing the same character at different points in his life? That's a perfect cliché buster.
It's also a move borrowed from screenwriter Oren Moverman's previous collaborative profile of a mercurial pop genius: Last decade, Moverman helped Todd Haynes establish the many faces of Bob Dylan in I'm Not There. With Love & Mercy, the split between "Brian Past" and "Brian Future" (as Dano and Cusack are credited, respectively) is less oblique and more purposeful, as the actors are portraying a pair of distinct personalities. Dano is the studio savant who finds deeper kinship with session musicians than he does with his own family members; Cusack is the tic-ridden, over-medicated shell left behind by years of emotional, psychological, and substance abuse. Love & Mercy director Bill Pohlad (a producer on 12 Years A Slave, Brokeback Mountain, and Food, Inc.) is no Haynes-level stylist, but the director still differentiates the two halves of his film through visuals. In the studio with The Beach Boys, Pohlad draws on his documentary experience to play shaky-cam fly on the wall. He's less lively when telling the story of Cadillac saleswoman Melinda Ledbetter (Elizabeth Banks) falling for Wilson and butting heads with Landy (Paul Giamatti), but the West Coast environs provide panache by default—and their contrast to Wilson's mental state expertly mirrors the bittersweet duality of the Beach Boys' discography.
Capturing the spirit of that music (while dramatizing the circumstances of its creation) is Love & Mercy's biggest victory. Whether it's Dano playing a skeletal version of "God Only Knows" at Murry Wilson's piano, his co-stars miming to archival recordings, or the deconstructed Beach Boys samples of Atticus Ross' score, the film sounds great—fitting for the sonic perfectionist at its core. As much as Love & Mercy wants to put the audience in Wilson's throbbing head, it also wants them to wear his ears for a little while. That sensation grounds far-out trips and mental breaks alike, and Pohlad's verité techniques in the studio keep those scenes from forcing insight onto the proceedings. We bear witness to the increasingly unreasonable demands he places on his musical collaborators, yet also feel his frustration when the cellists aren't giving "Good Vibrations" the proper propeller-like chug. Mounting volumes of master tapes come to symbolize the unrealized nature of Wilson's magnum opus, and a silent pan across those tapes hits with the same tragic impact as Landy telling Melinda she can no longer see Brian.
Love & Mercy is Wilson's story, but it's Banks' movie to steal. As her co-stars (Giamatti especially) chew the scenery like they can smell an Oscar hidden in the drywall, the actress invests Melinda with an honest humanity. She's a woman unexpectedly caught between one of the biggest pop stars in the world and the Svengali who dopes him into a stupor and moves into his mansion. Playing the man affected by those meds, Cusack does a serviceable and recognizable approximation of Wilson's mannerisms, but he's hamstrung by the manic highs and depressive lows of his character's mental state. When he's really deep in the paranoia, Cusack's Wilson feels like a rendition that his High Fidelity character would mock; dealing with a driven-but-slipping Brian, Dano is able to bring more nuance to the character.
G/O Media may get a commission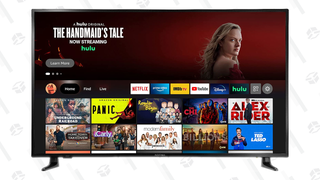 38% Off
Insignia 50" 4K UHD Smart TV
As a historical document, the script (co-written by Moverman with Michael A. Lerner) occasionally suffers from Wikipedia-speak: Marilyn Wilson (Erin Darke) referring to "Good Vibrations" as her husband's "pocket symphony to God," or Brian worrying out loud that The Beach Boys aren't keeping pace with The Beatles. These phrases and ideas are so ingrained in the Brian Wilson mythos that they make the film's other half all the more essential. And in that regard, Love & Mercy draws its closest parallel to Pet Sounds and Smile, masterworks of composition and arrangement whose lyrics could only be articulated with the help of Van Dyke Parks, Tony Asher, and the other Beach Boys. Like the best songs on those albums, Love & Mercy is so emotionally acute, it doesn't matter if some of the words turn out all wrong.