Some kids grow up wanting to be astronauts. Others see themselves as doctors, veterinarians, or presidents (apparently the job best suited to children). One man has reached adulthood with a different dream in mind: becoming the poor sap who dresses up as a tray of deep-fried onions at football games.

Ryan Nanni, whose Twitter bio plainly states "My only professional goal for 2017: to serve as the Bloomin Onion at the next Outback Bowl," decided to act on his ambition. He started tweeting at Outback Steakhouse's account back in early January to ask how he could become the deep-fried corporate mascot.
Thus began almost a full year of badgering the Australia-themed purveyor of heart-destroying food with his request.
G/O Media may get a commission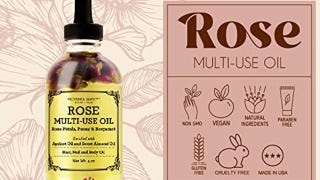 Provence Beauty Rose Multi-Use Oil
Denied recognition from Outback, yesterday Nanni finally chose a new course of action—one that represents perhaps the only form of untainted democracy left to us.
Of course, it worked. Outback responded in the nauseatingly faux-friendly, hashtagged parlance of the modern, social media savvy brand.
Because the internet loves a good cause (and brands acting #silly), Nanni quickly exceeded the mandated "viral retweet" threshold and will now be allowed to end his months of longing.
While it's always nice to see a joke, especially one as lengthy as this, pay off, we must also question the price exacted by Outback Steakhouse. Their final tweet's decision to include the laugh-crying emoji after receiving their free publicity seems to sum up the entire thing best: funny and sad, patently insincere and aping a humanity they will never achieve. We see that the brands may play along with our simple designs and subtle mockery, but will always get theirs in the end.