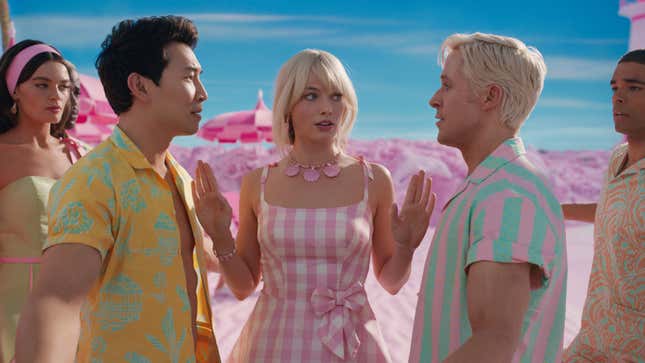 Even with the first trailer out and all of those memes clogging up our collective timelines, we still don't know much about Greta Gerwig's Barbie movie. It's obviously some big meta-thing, with Margot Robbie's Barbie and Ryan Gosling's Ken going from the Barbie-filled Barbie Land to the Real World (where Will Ferrell will be playing the head of Mattel), but anything beyond that has been kept suspiciously secret—which is particularly surprising based on the fact that it should be easy to predict where the story goes from there in a post-Lego Movie world (and that also featured Will Ferrell as the key character to the meta-thing about it).
"Barbie Girl" will not be in Barbie movie
But whatever's up with the Barbie movie, it's all apparently so cool that Robbie was convinced that it could never actually get made. In a video for BAFTA, Robbie said that her first reaction after reading Gerwig and Noah Baumbach's screenplay was, "Ah! This is so good. What a shame it will never see the light of day because they are never going to let us make this movie." But, as she notes, "they did."
In that same video, she refuses to divulge any additional details about Barbie or why it's so cool or why she didn't think Hollywood could handle it, so… maybe we'll never know. It will remain a mystery forever. We could wait until Barbie comes out on July 21, but who has time for that?
Whatever happens, we're just hoping for a post-credits stinger where Will Ferrell's character introduces Barbie to a Hot Wheels car and together they go try to beat up some Transformers and G.I. Joes (which are Hasbro properties and are therefore Mattel's most hated enemies).